Chez Elle Review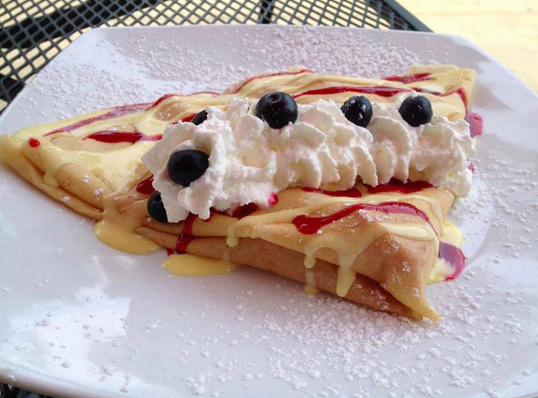 Rating: 4 out of 5
Nestled on 1713 Summit St. in Kansas City, Mo, in a remodeled Summit theater building, Chez Elle Creperie & Coffeehouse provides a unique and cultural dining experience for all who go.
The location is less than desirable. It is in a somewhat hard to reach area on the outskirts of the central downtown Kansas City area in the middle of a conglomeration of run-down houses and abandoned buildings. However, the character of the renovated theater building makes up for the poor location.
Upon walking into the restaurant, I immediately felt welcome. With an open floor plan, a variety of seating options, and warm lighting, the atmosphere felt very cozy.
The menu is easy to understand, spelling out every ingredient in each savory crepe, sweet crepe, breakfast crepe, soup, salad, and pastry on the creative chalkboard of items.
A wide variety of special items such as soups and drinks change by date and the menu includes a large list of unique hot teas, coffees, alcoholic beverages, and sodas ranging from cola to a spanish bergamot beverage.
I found the savory crepes, seemingly the main attraction, average. Every person I have eaten with at Chez Elle has simply raved about their delicious savory crepe. However, I am not a fan of most cheeses and meats, so finding a savory crepe I like tends to be challenging. The most memorable savory crepe I tried was the "Suise", which contains black forest ham, swiss cheese and asparagus tips topped with hollandaise sauce. I did not hate this, but I found that the taste of the cheese to overpowered everything else. I did enjoy the "Bonjour" breakfast crepe which contained scrambled eggs, bacon, and cheddar cheese. It had a perfect balance of all of the ingredients and was perfectly cooked.
Because the savory crepes are not my favorite, I have come up with my own perfect meal over the many times I have ate at Chez Elle. I start with the Greek salad, which is a colorful blend of fresh, juicy vegetables, lettuce, and a great Greek dressing. I also sneak bites of the savory crepes of whoever is dining with me in order to try a variety.  And I finish by enjoying my favorite dessert crepe, the "Paris." This normally contains nutella and bananas, but as the chefs are great about customizing orders, I am able to get this with strawberries with no problem. I enjoy this crepe immensely. The fruit is fresh, the nutella is not too much, and the crepe is perfectly cooked to make the dish nice and warm. I have had this a countless number of times and there is nothing I look forward to more.
Besides the generally well put-together and satisfying food, the service and price are  great. I could eat a full, quality meal for under $20 in a nice atmosphere, with enjoyable music and attentive service. Not only are these unique dishes very affordable, but the workers have an obvious love for their job making the atmosphere a positive one. Plus, the serving staff does not constantly pester the customer which is very important in my book.
Overall, I thoroughly enjoy Chez Elle. Each time I visit and bring a new customer with me, they are impressed by the excellent food and prices, as well as the adorable interior and fun atmosphere. I have made it my go-to downtown restaurant despite the way I feel about the location.
---
Orange San Pellegrino 2.75
Half Greek Salad 4.50
Paris Crepe (with strawberries substituted for bananas) 7.50
---
Total (without tip): 14.75