The decade in retrospect: 2007
Jan. 4: Nancy Pelosi becomes the first female speaker of the house.
Jan. 10: President Bush announces a plan to send 20,000 additional troops to Iraq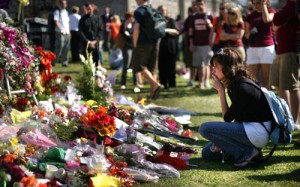 Jan. 23: Nick Michalski sets the school bowling record with a series average of 225.
Feb. 7: Senior Daniel Beattie takes 1st place at state in diving.
April: The new district softball complex opens behind Walmart.
April 7: Allyson Woodbury passed away after fighting a four-year battle with cancer. Earlier in the year she was crowned Homecoming Queen. Allyson was an advocate for Dream Factory and Children's Miracle Network, and at one point traveled to Washington D.C. to lobby for more funding towards muscular and skeletal research. "If there was ever anything she could do to help somebody else, that was what she was going to do; that was what she wanted to concentrate on, not her illness," mother Pat Woodbury said. "She didn't want to be looked at as the girl with cancer. She wanted to be a regular girl."
April 16: Virginia Tech student Seung-Hui Cho kills 32 students and wounds 25 others before taking his own life.
June 10: The Sopranos ends its eight year run with 11.9 million viewers tuning in.
Oct. 10: The Sprint Center opens in downtown Kansas City along with the Power and Light District. The first concert, an Elton John show, sold out in 90 minutes.
View Larger Map
Oct. 25: The Airbus A380, the largest passenger aircraft, makes its first commercial flight.
Nov. 5: The Writers Guild of America goes on strike demanding a portion of the money made on DVD sales and shows watched online. Popular TV shows reduce length of seasons as a result.
Nov. 24: College Football: No. 4 Missouri defeats No. 2 Kansas 36-28 in the game later called "The Armageddon at Arrowhead."
Dec. 13: The Mitchell Report is released revealing 89 Major League Baseball players to have used performance-enhancing drugs.
Dec. 27: Former Pakistani Prime Minister Benazir Bhutto, chairwoman of the Pakistani People's Party, is assassinated in Rawalpindi, Pakistan, approximately two weeks before a national election in which she was favored to be elected president.