Winter sports debut
Goodbye football season. See you next year Rim Rock. Impressive season soccer team. With the conclusion of all fall sports in the state of Kansas, it's time to pull out the winter clothing and get ready for the new season ahead of us.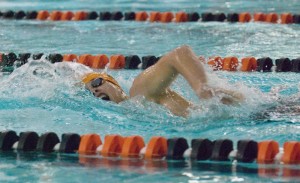 The NW winter sports season began tonight with the Lady Cougars basketball team falling to Shawnee Mission West 48-23. Although the game didn't appear very pretty, there were definite signs of maturity among this young squad. Watch for these girls to sneak up on some teams this year.
It's time to get ready for another ride on the Cougar Coaster. The boys' basketball team will begin their 09-10 campaign tomorrow night in the NW gym at 7 p.m. against the arch rival Indians from Shawnee Mission North. Be sure to wear black to support the blackout theme!
"Man, I can't wait," A.J. Spencer said. "I probably won't even be able to sleep tonight. Just thinking about tomorrow gives me the chills."
Pre-ranked third in the state, the Cougars look promising coming in to the season.
The wrestling team kicks off their season tomorrow night in Pleasant Hill, Missouri at the Steve Leslie Invitational. The team looks very solid this year, returning almost all of their roster from last winter. Be ready for the Cougars to finish strong in their first tournament of the season.
The boys swim and dive team will also begin their season tomorrow in the new and improved NW Aquatic Center. The tri-meet consists of the Cougars, Washburn Rural, and Maize. The first event will take place at 4 p.m.
Buckle your seatbelts and enjoy the ride NW. It looks to be a very exciting winter.