Over the past three months, Swimming, Boys' and GIrls' Bowling and wrestling have been working hard to wards their final goals and competing at their repspective state tournaments.
The last time the wrestling team won the Sunflower league title, sophomore Chandler Gordon wasn't even born yet.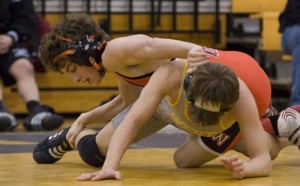 In the years that followed the 1991-92 championship, the team never placed better than fourth. Last year, they took seventh in the tournament and went on to place 21st at state. This year, they tied for the league championship with SM East.
" we had several goals.  The main ones were to place top 3 in the league tournament, in which we were first; win Regionals, in which we were second; and qualify 10 wrestlers for the state tournament," Newcomb said.
Gordon won his second consecutive league title in the 103 lb. weight class, and junior Ross Whitmore won an individual title in the 125 lb. weight class. Senior Nick Caldwell reached the finals of the 160 lb. weight class but lost due to an injury default. Freshman Reed Bowker (112 lbs.) and junior Tyler Deal (130 lbs.) both finished third; sophomore Colby Everett (119 lbs.), senior Ed Spaunhorst (140 lbs.) and senior Will Greenhaw (145 lbs.) finished fourth; junior Blake Covington (189 lbs.) took fifth; and senior Dylan Swoyer (135 lbs.) and junior Bobby Urteaga (171 lbs.) finished sixth, in a total team effort.
Although the Cougars defeated Lawrence at the Sunflower League Tournament, the Lions clipped them by a few points at the Regional meet. Gordon (103 lbs.), Whitmore (125 lbs.), and Deal (130 lbs.) all won their weight classes at Regionals.
"This season, I kind of expected a lot of myself. I didn't want to settle for anything less than a state championship," Gordon said after he qualified for the state tournament.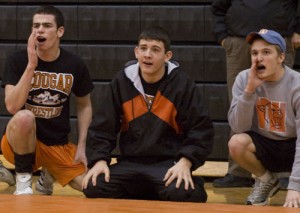 Going into the state competition, the Cougars are not ranked in the top 10, but both Gordon and Whitmore are ranked in the top 3 in their respective weight classes. Whitmore has been a points leader for the Cougars all year, and he has the best record on the team.
Only two teams from either the Eastern Kansas League or Sunflower League are listed among the top 10 teams in the state because most of the ranked teams are from western Kansas. Derby is the current favorite to take the State title, followed by Garden City and Dodge City, according to Kansaswrestling.com rankings.
The Cougars met another one of their goals for this season: 10 wrestlers qualified for the state tournament, more than have qualified in the last 20 years.
The state tournament will be held today and tomorrow at the Intrust Bank Arena in Wichita.