New Year, Same Sports
Take a look at how the winter sports teams are doing midway through their seasons
Boys' Swim
Senior swim captain Brian Harrell and the boys' team have been excelling in meets this season, and are set to compete at the state championship in February.
Harrell individually qualified for two events at the state competition. Additionally, the team qualified for three medley events.
"I qualified in the 50 free, the 100 butterfly and then three relays, the medley relay, the 200 free and the 400 free," Harrell said. "I went to state last year doing the 100 , and I didn't end up making the finals. This year, I want to continue to improve."
Each relay is made up of four people, a combination which Harrell says may vary based on who is doing the best at the time.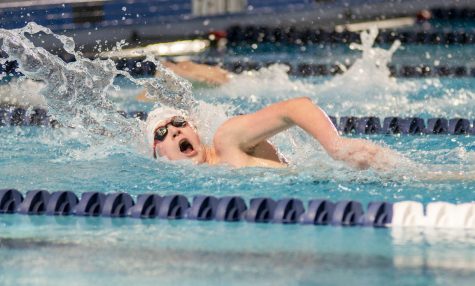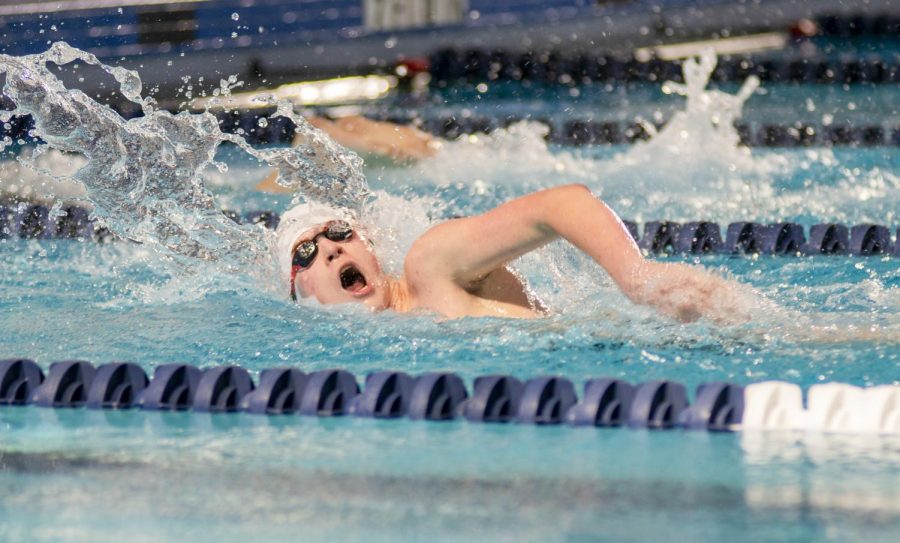 "We pick the best person for each stroke: freestyle, butterfly, breaststroke and backstroke," Harrell said. "So far, our medley relay has Alex Duewel, Alex Savincov, Grant Edmonds and me. Our 200 free has the same people, then our 400 free I think is the same, but it might vary. The fastest will get swapped in and out."
One of Harrell's goals, aside from placing on the podium at the state competition, is to break the school's 100 meter butterfly.
"I'm proud of my 100 fly," Harrell said. "I've been dropping time on that and hopefully I can drop more. If I'm lucky, I can beat the school record – I'm two seconds away right now, but I think that would be nice if I could get that."
The team's success in qualifying for the state competition isn't only down to one person, however. Harrell credits the rest of his team for their hard work, especially co-captain junior Alex Savincov.
"We get new swimmers every year, so you never know how you're going to do, but I think that this year is going well," Harrell said. "Alex Savincov has been working really hard. Last year he made state, but this year he's ranked second in the 50 yard freestyle, and that's really good. I've really seen a lot of improvement from him."
Harrell is also grateful for his coach, Ryan who has been at Northwest as long as Harrell has.
"Coach is always finding new and creative ways to challenge us," Harrell said. "His first year was my freshman year, so this is his fourth year coaching with us. I feel like he has definitely gotten creative with his sets compared with my freshman year. He really enjoys what he does and I'm proud of him for it, because he just makes it more fun and it's a blast every day."
Bowling 
The girls' and boys' bowling teams are adapting to less practice time with the same amount of meets they attend.
"Last year we would all practice from 3-5 p.m., so we'd get a lot of work done and get the kinks out," senior Grace Bradley said. "But this year, the girls practice from 3-4 p.m. and the boys go from 4-5 p.m., so we don't get as much done as we'd like to and we only practice a couple days a week. It prohibits us from being able to bond with each other, because the girls barely see the boys and they barely see us."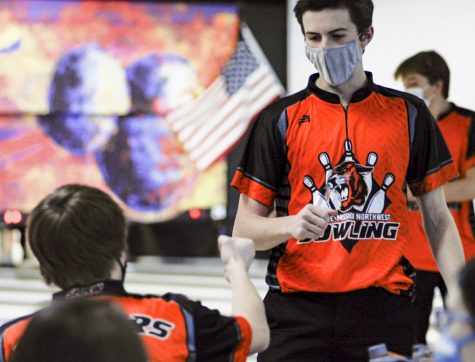 Bradley, who has been bowling on the NW team since her freshman year, has continued to work on perfecting her game as much as possible. In bowling, a perfect game is 300 points. A perfect series, the total of three games combined, is 900 points.
"My high game right now is a 265, and my high series… is 694," Bradley said. "I definitely think it reflects my abilities because it shows that I can be a leader. It also shows that I'm dedicated to bowling, and I'll push myself more and more every day and set big goals for myself."
Bradley is optimistic about the outcome of this year's season, as she thinks that some of the team's newest players have exceptional talent.
"We've had a lot of good people graduate, but we have a really good team from new and (existing) people," Bradley said. "It's a chance to show that we are a great team, even with a lot of people graduating who were some of our top bowlers."
Senior Evan Battles, who plays for the boys' team, is also impressed with how the team has performed so far this season.
"This season, we seem to have more enthusiasm throughout the entire roster than in the past," Battles said. "People have always been into it, but this year seems like something special could really happen."
Wrestling 
Senior Alvin Horner, the only returning varsity wrestler, continues to be a leader to the newcomers on the squad.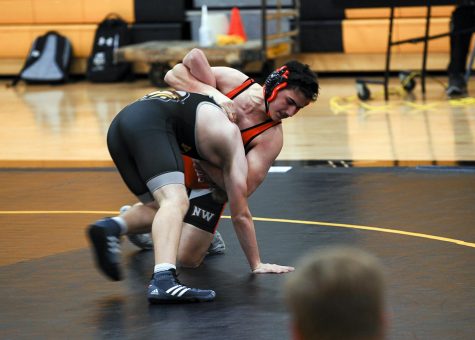 "I think we're 0-5 (as a team)," Horner said. "My record is 9-0 as of right now. Our team is very young this year."
Horner recognizes some areas of improvement that the team needs to work on to be more successful. With most of the wrestlers being new to the sport, they have to work hard to perfect their technique.
"We need to improve on taking shots and maintaining stamina," Horner said. "I'm trying to get guys to work outside of the room, so instead of playing video games they need to go for a jog."
Although the wrestling team is still competing at meets, Horner misses the aspects of the season that he was able experience before the pandemic."This season doesn't compare to any season I've ever played," Horner said. "It's weird. I miss the tournaments, hotels and the team bonding."Horner is hopeful for success in the upcoming regional and state tournaments.