Joyful Noise
Queen Latifah and Dolly Parton make "joyful noise" in their new musical comedy that isn't much more than soft, sunshine-y entertainment.
As Pacashau, Ga., falls apart economically, the Divinity Church gospel choir lifts up voices and local spirits with the dream of victory in the National Joyful Noise Competition. But the director Vi Rose Hill's (Queen Latifah) godly principles and high-held traditions keep the vocalists from flourishing in their true brilliancy. The tension makes clear that something is going to happen; and it's not too hard
to guess in which direction the movie is headed.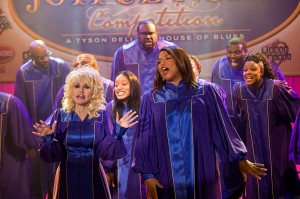 Thus, the viewer won't be
much surprised as the rich widow G.G. Sparrow (Dolly
Parton) wants to "shake it up." The rivalry over the choir's direction gets the two strong-willed divas into some smart-mouthed catfights. Laughter, applause and "amen" are the reward for some of the movie's catchiest lines. Most of the time, however, the two leading ladies' acting suffers a rather weak screenplay.
The disharmony in the choir is boosted by the arrival of G.G.'s grandson Randy (Jeremy Jordan). With a rather unconventional gig in church, the supposed "bad boy" gets everyone's attention. Right away, his love for music and for Vi's daughter Olivia (Keke Palmer) promises to mix the community up. Randy's role to spice up the story with romance, conflict and friendship lacks originality; the clichés limit the effectiveness the character has on the plot.
No cliche is left out in this movie, which also finds space for a daughter who grows out of her mom's conservative household, a son with Asperger's syndrome, an estranged husband and forbidden love.
The movie's predictability is periodically disrupted by its assortment of too many plot lines that don't quite join together. However, the catchy performances of soulful, feel-good music make your heart sing a hallelujah. The spunky singers put a smile on their audience's faces that makes you forgive the fact that the story is cheesy and shallow. If you don't want to go too deep under the surface and just want an uncomplicated feel-good film, this movie is perfect for you.
3 1/2 out of 5 stars