Pedro & Plot Holes
"The Mandalorian" returns for a great third season, though not without its flaws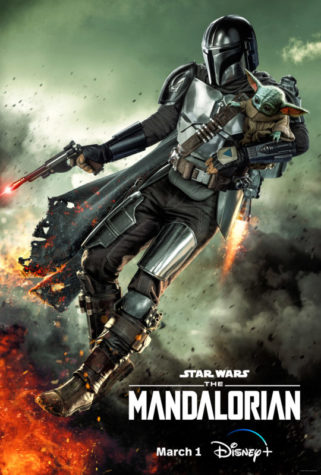 "The Mandalorian" has been a staple of late-night dinners in front of the TV. Whenever the show would drop my mom would beg to watch the newest episode. She would then doddle around in the kitchen and we would beg her to get in the living room so we could finally watch Pedro Pascal and a puppet child travel across the galaxy.
I've been waiting for a third season for a while, and it did not disappoint. 
Season three starts off with Din Djarin, the main Mandalorian, attempting to repent for removing his helmet in the previous season by journeying to Mandalore to bathe in the living waters beneath the mines within the planet, which is seen as a baptism of sorts. The story then starts to pick up. The plot is generally self-contained, but it hints at a connection to the larger Star Wars canon. 
I am thoroughly enjoying it. 
The biggest issue I have with the story is its lack of a resolution from season two. The cliffhanger of Grogu being taken in season two by Luke Skywalker is entirely glossed over. Along with other plot points; it isn't even addressed in the recap. All of this was resolved in two episodes of "The Book of Boba Fett," a separate Disney+ show. 
I love "The Mandalorian," but for those who don't watch all of the shows on Disney+, this could be very confusing. I'm lucky to have watched it before. 
As with the past two seasons, the actors are phenomenal, and I'm not just talking about the puppet. 
Pedro Pascal is always a standout, you can read the man's feelings without seeing his face. Katee Sackoff as Bo-Katan Kryze has been a fun character to watch this season, she serves as a nice contrast to Din and Grogu. Emily Swallow is great as The Armorer; she's a mysterious, intense character who I'm excited to see more of. I also have a soft spot for Amy Sedaris as Peli Motto; she is hilarious whenever she's on screen, so I always look forward to her appearances. 
"The Mandalorian" has always been a show of mostly small episodic side quests. While there is an overarching plot for every season, it's usually slow-going. But, within the first several episodes of this season, we've gotten a larger, more established plot. I hadn't minded the slowness, but this is a good change of pace. 
One of the other praises I have for the show is its development of character relationships. 
Din and Grogu obviously have a very tight-knit bond. We can see they care about each other throughout their interactions. Din also has great chemistry with all of the rotating cast of characters, with believable, consistent relationships with Bo-Katan, The Armorer and Paz Vizla.
I highly recommend watching season three of "The Mandalorian." It's a fun and enjoyable addition to the Star Wars universe. Just don't forget to do your homework and watch the last few episodes of "The Book of Boba Fett." It makes things a lot less confusing.