Spring sports preview: Softball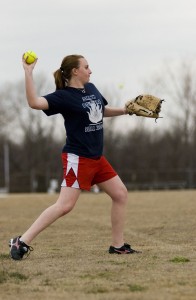 With hopes of reaching the state tournament for the first time since 2003, the Cougars return one of the best hitters in the Sunflower League in Mississippi State-bound senior, Rachael Zdeb. Coaches are looking for her to play a key role in the team's success.
"We're expecting big things from Rachael this year after she broke the Northwest single-season-hits record last year," coach Lindsay Kincaid said.
Along with Zdeb, other key players will return to the team, including seniors Loryn Goebel, Stephanie Rupp and Audrey Millard, junior Logan Roberts and sophomore Sarah Male.
Perhaps the biggest question mark this season will be the starters in the infield. Of the 24 girls on the squad this year, 14 are freshman. But don't let that fool you. There are signs of some very good talent in the youngsters. Four of the nine varsity starters could potentially be freshmen, according to Kincaid.
"We're definitely looking for the freshmen to make an immediate impact at the varsity level this year," Kincaid said.
Due to the harsh weather conditions, the girls have rarely been able to make it outdoors to practice. They are still anxious to see how the team will compete in a real game setting.
"We may be young, but we all believe in each other. As long as you have that trust and belief, that's all a team needs to compete," Zdeb said.
The softball team began their season this week with games against Olathe East and SM South. They play Olathe Northwest on Tues. at CBAC at 5 p.m.