Spring Sports Gallery: Softball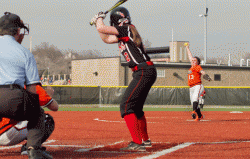 With eight returning players and two new players, the varsity softball team looked strong in its first two games of the season. Coaches Mark Balderston and Anthony Kinney went into their first game looking to get the season of to a strong start. On April 28 the girls won both their games in a doubleheader against Lawrence.
"I think we did amazing," senior Emily Utech said. "The first game we had a slow start but by the second game it didn't take very long to figure things out. We played very solid."
Despite different individual goals, every player has the same unifying goal: to win the state title.
The team's next game is April 9 against the Olathe North Eagles at the SM Softball Complex. On April 11, the girls will play the Lawrence Free State Firebirds.
"I really like seeing all the people in the stands cheering us on," senior Bailey Letts said. "It gives us some more motivation, so I would really love for people to come out and watch our team."
photos by Aaron Messick