Coping in Quarantine
How your mental health is impacted by the COVID-19 pandemic – and what you can do about it
During this time of social distancing, we are left to ourselves with our families and forced to adjust our everyday lives. This means we have limited contact with many people we are used to seeing on a daily basis.
Although some people enjoy the alone time, this long term state of isolation can be quite damaging to our mental health. Social distancing causes stress that some people may have not have ever experienced before and many people are extra anxious with all this free time on their hands. 
The Center For Disease Control and Prevention (CDC) says that many people are experiencing unhealthy symptoms from being alone during the outbreak of COVID-19. These symptoms can be anywhere from simple changes in sleeping and eating habits to having trouble concentrating on daily tasks.
Stress affects everyone differently; those who were diagnosed with mental health illnesses before COVID-19 are at a higher risk to have extreme symptoms. Young adults may experience consistent acting out and easy irritability when their stress levels rise. Any essential employees who have to work during this pandemic could be experiencing overwhelming stress from their exposure to the virus. The people who are highly at risk may be overly stressed because they constantly have their health and wellbeing on the line. 
The Johnson County Mental Health Center (JCMH) has expanded their services in response to the COVID-19 pandemic. They have added staff to answer their 24-hour crisis line, shifted individual counseling to phone and video technology and begun to provide support groups via Zoom. They have also created a weekly email list called the Mental Health Moment, which includes positive messages and tips for coping with COVID-19 sent out every Wednesday. They are also continuing their "It's Okay if You're Not Okay" podcast with coronavirus-specific episodes available on Apple Podcasts, Spotify, Google Play, Podbean, Pocket Casts and Stitcher.
JCMH has released a webpage with tips and tricks for handling the unique stress brought about by COVID-19. They speak about the concept of collective trauma, in which a community experiences intense stress as a result of the same event.
"Physically, people may experience fatigue or insomnia, inactivity or overactivity, or increased appetite or decreased appetite," JCMH states on their website. "Individuals could startle more often, have digestive programs or even a headache."
To combat these symptoms, they recommend implementing a structure or routine to each day, communicating with friends and family, exercising, and keeping a written or video journal.
Nobody knows when we will be able to return to "normal," but we do know that being overly stressed and anxious isn't good for us. Although it may seem there's no hope for keeping a positive mental state right now, there are some things we can do from the comfort of our homes to help. NAMI (National Alliance on Mental Illness) as well as JCMH have posted a list of things to do when you're feeling anxiety and stress due to the crisis. They suggest to keep up with the news to an extent – stay informed, but also to limit yourself so that you don't become more overwhelmed. By making sure your information is credible, and by only watching the news in smaller doses, you give yourself some time to process what's going on. 
Following healthy routines can also help, as well as introducing yourself to new coping strategies that benefit your mind and your body. This can include yoga, jogging, biking, walking, or anything else you can do to get some fresh air and relax. 
It's always important to pay attention to your mental health, especially right now. We can do this by staying informed and practicing good self-care tactics that can hopefully put our minds at ease. Nobody knows the long-term mental effects that COVID-19 will have on us as a population until further down the road. For now, we just have to focus on keeping ourselves and others safe.
Leave a Comment
About the Contributors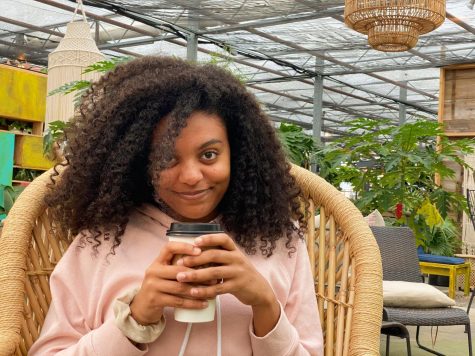 Elizabeth Kuffour, Co-Editor-in-Chief
Hi! I'm Elizabeth "Ella" Kuffour, co-editor-in-chief of the Northwest Passage and a senior at Northwest. This is my third year on the staff of the Passage—I...
Ally Pruente, Co-Editor-in-Chief
My name is Ally Pruente, a senior and Co-Editor-in-Chief of The Northwest Passage. Outside of being a leader for the newspaper, I'm the NHS president,...