A week to remember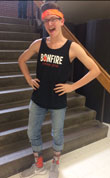 Students dress up for Spirit Week to celebrate Homecoming.
As Homecoming excitement inflates, students adorn themselves in outfits corresponding to each of the five Spirit Week days, beginning with greyed-out Groutfit Day and concluding with Decades Day. Students donned tall tees and tuxedos for Tall Tees Tuesday and Well Dressed Wednesday, and decked themselves out in spirit wear for Cougar Crazy Day on Thursday.
"We do Spirit Week to get everyone involved and excited for the event that we're celebrating," senior Elizabeth Drummond said. "It's an easy, fun way to show support for Northwest and cougar country."
Drummond is the head of Spirit Club, and, as such, leads the club in choosing spirit days. Spirit Club meets every other Tuesday and is open to anyone who wants to join. Any student at Northwest can suggest spirit day ideas at Spirit Club, and the group votes on the days and narrows them down until they have a respective theme for the five days of Spirit Week.
NW Journalism took an interactive outlook on Spirit Week this week, and ran a Twitter poll for each of the five spirit days. Each poll featured three to four spirited NW students decked out in their spirit day outfits, and each day the student body chose a new winner.
Monday's Groutfit Day winners were seniors Sarah Joslin and Jordan Ray, who took a picture side-by-side in their grey clothing. Tall Tee Tuesday's winner was senior Anna Taylor, and Well Dressed Wednesday's winner was junior Bryan Morphin. Freshman Jackson Tomlin won by a mere 3 percent on Cougar Crazy Thursday, and Friday's Decades Day winners were seniors Mikaela Keller and Jake Snider. We'd also like to recognize freshman Zachary Dulny, who participated in each spirit day and posted his outfits on Instagram after tagging @smnwjournalism.
Groutfit Monday
Seniors Sarah Joslin and Jordan RayJunior Abigayle RedekerJunior Mandy Dulny and Freshman Zachary Dulny
Tall Tee Tuesday
Senior Anna TaylorSophomore Jacquelin McKaySenior Tavin CookFreshman Zachary Dulny
Well Dressed Wednesday
Junior Bryan MorphinJunior Collin EichkornJunior Heidi Smith, Freshman Andrew Beaven, and Senior Tristan Patrick CaseFreshman Zachary Dulny
Cougar Crazy Thursday
Freshman Jackson TomlinSenior Jasean ParkerJuniors Jasvir Sandu and Hayley SchaefferFreshman Zachary Dulny
Decades Day Friday
Seniors Jake Snider and Michaela KellerSenior Ashton HessSenior Davia ClarkJuniors Jack Lammers and Grace SeyboldSenior Rhiannon WilhiteFreshman Zachary Dulny