It Takes A Spark
Preparations and the reality of the Bonfire Assembly
A hush fell across the gym as Spirit Club treasurer Izak Zeller took the microphone to announce the Spirit Stick winner. 
"Seniors," was all that was said before the gym erupted into screams and shouts and students left the stands to celebrate their victory at the Bonfire Assembly on Aug. 31.
"I find that the Bonfire is probably one of the most hype assemblies of the school year," Spirit Club co-sponsor Brooke Moore said. 
Spirit Club dedicated weeks of preparation to the Bonfire. Most of their time was spent fire permits, creating scripts, coordinating groups, contacting people for class skits and approving acts and music.
"We have a Spirit Club class where we worked on planning every ," junior Rose Cox said. "We also have a lot of different documents we edit and scripts to discuss as well as poster making to plan." 
Spirit Club is not the only organization involved in the planning and execution of this event.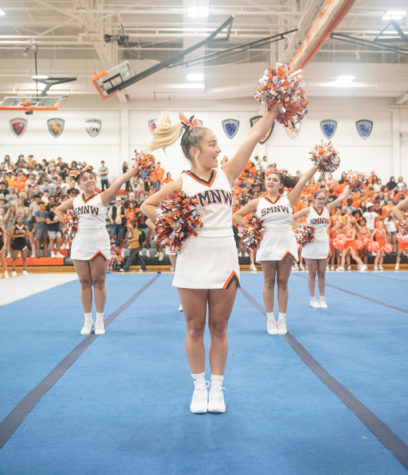 "Our Spirit Club, cheerleaders, band, dance team and everybody works together to make this event happen," principal Lisa Gruman said. "I love that it's student led and student driven."
The Bonfire assembly has been a way for students and staff to kick off fall sports for as long as Gruman can remember. 
"It's important to have those traditions that carry down from each class," Gruman said. " is something
that is uniquely Northwest. Preserving those traditions is important." 
There is no limit to the amount of energy and spirit that students bring to this assembly.
"I remember being able to spot a curly rainbow wig and a few friends covered in glittery paint and bracelets," freshman Addie Everett said.
Some attending Bonfire didn't know that the local Shawnee Fire Department was involved in safely starting and extinguishing the fire.
"Anything with the community weenjoy because that's who we protect," Quentin Hammontree, a captain with the Shawnee Fire Department and  SMNW graduate, said.
"Northwest assembly culture is like," senior Ally Urich said. "It's the best introduction to this scene they're going to get, and you also get to watch something burn. What more could you want on a Wednesday night?"