The Foreigner opens tonight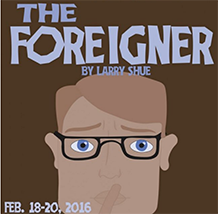 The Foreigner, a play about a man whose partner convinces an elderly lodge owner that he speaks no English, will open at 7 p.m. tonight, Feb. 18, and will continue through Feb. 20.
Because the residents of the lodge don't think that the man, Charlie, can understand them, they tell secrets to each other as if he can't understand.
"Everyone should expect a funny show with some possible offensive scenes," Tony Mauna, who plays the part of the Reverend David, said.
The actors and people in the tech department have been working hard to bring the play to life since before Winter Break.
According to Zack Vielhauer, the set presented some challenges for the tech crew.
"It was difficult to build the fireplace because we had to use chicken wire and mesh it together," Viehauer said.
But those challenges have been met and Mauna is looking forward to tonight's opening.
"I think most of the audience will highly enjoy this production," Mauna said.
The Foreigner begins at 7 p.m. in the Greg Park Auditorium.
Tickets, which are available at the door, are $8 but free to students with a school id. 
+Miles Weiss