Super Bowl 50 Predictions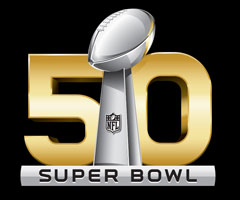 Matt Owens picks the  Denver Broncos
With a week off, Peyton Manning will be able to be the Peyton Manning of years past. While injuries have sidelined him for a month and a half this season, he will be ready for what could possibly be his final game. Since returning from injury, Manning has yet to throw an interception. Along with the best defense in the NFL led by Wade Phillips, the Broncos will be able to sideline Cam Newton and the powerful Panthers offense. The Bronco defense arguably has the best linebacking core composed of Von Miller, DeMarcus Ware and Shane Ray. It is number one in the NFL in points allowed per game and rush yardage allowed. In the end, Manning will be riding off into the sunset on a Bronco holding a Lombardi trophy in one hand and a Super Bowl MVP trophy in the other. Broncos will win 17-14.
Reed Williams picks the Carolina Panthers
Thirty-nine-year-old Peyton Manning was benched for five weeks this season due to a shoulder injury. He's old, hurting and won't be able to beat the young and fiery Cam Newton. Yes, he is great in the air, but his rushing ability is a nightmare for opposing defenses. And that's before we begin talking about tight-end Greg Olsen, who has an uncanny ability to bail out Newton on inaccurate throws due to his gargantuan catch radius. Panthers' head coach Ron Rivera isn't scared to make a risky call, which is essential for a Super Bowl 50 win. The Panthers' offense has pounced on every team they've played this year (i.e. their 49-15 victory over the Arizona Cardinals in the NFC Championship). And that's before you consider the seven turnovers forced by the Panther defense stacked with some of the best players in the league (Luke Kuechly, Josh Norman and Charles Johnson).The Panthers will terrorize the Broncos defense and win 35-24.
Jack Lynch picks Carolina Panthers
Riverboat Ron and SuperCam will crush the ancient Manning. Cam Newton, Tedd Ginn Jr., Jonathan Stewart and the rest of the Panther's offense have been nearly unstoppable this season. Their defense has quietly been one of the best in the league. Denver is a different story with an elite defense burdened with carrying a lackluster offense. Manning is archaic by NFL standards and has had an uninspired season punctuated by the fact that, in the AFC Championship Game, Manning threw only his second and third home touchdown passes of the season. He may be an all-time-great, but his failure to reach the endzone consistently at home is troubling. This will be a battle of experience and age against fire and youth, as Manning and Newton have the largest age difference of any starting quarterbacks in Super Bowl history. Carolina will win 31-13.
| | | | |
| --- | --- | --- | --- |
| | Matt | Reed | Jack |
| Carolina vs Denver | Denver | Carolina | Carolina |