2013 SMNW Poetry Slam: Day One Live Blog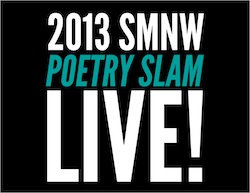 2:40 p.m. Laura Assmann brings many to tears with her heartfelt poem dedicated to the journalism program. She takes the top spot in the Slam with a score of 9.93. Tune it tomorrow for the second day of the Slam, where we will be once again live blogging. Congratulations to all who performed today.
2:31 p.m. Smith receives a 9.3 for his poem, and Kylee Hartl earns a 9.2 for her ode to the arts. Now, Laura Assmann finishes off the first day of the 2013 Poetry Slam.
2:23 p.m. Bridget Lynch talks about how being on the stage transforms who she is; her poem scored a 9.2. Nick Smith catches the audience's attention with his poem "Dream Girl," a tale of romance.
2:18 p.m. The final round of the day begins with a poem by Taylor Bonser, which earned an 8.7. Steven Skells performs his poem about issues that plague society, receiving a score of 9.3.
2:04 p.m. Werle's poem about foolishness scores a 7.56. Bailey Wendel wraps up the fifth round of first day of the Poetry Slam, scoring a 9.37, taking ninth place in the top scorers.
1:58 p.m. Margrave scores a 8.9, and Sunnie Helmer performs her poem, inspired by her boyfriend, about the best influences in her life. Helmer scores 8.3. Now, the dynamic duo of Clark Anderson and Phil Shamet pumps up the crowd with their rap about tax season. The couple asks for a "negative infinity" as a score, but leaves the stage with a 9.3. Now, Joe Werle performs for the third year in a row.
1:48 p.m. Davis Millard starts out the fifth round with a heartbreaking poem about his grandpa, titled "Take a Walk." His poem earned 9.7, tying with Darielle Criss for second place. Mikala Modiri performs her poem about life, scoring 8.9. Now, Courtney Margrave performs for the first time at the Slam as a senior.
1:34 p.m. The top scorers so far are
Sam Gross, 9.83

Darielle Criss, 9.7
Anthen Swearingen, 9.58
Brooke Golladay, 9.54
Aaron Bullard, 9.52
Kirk Bado, 9.42
Zach Ziegenhorn, 9.38
Chandler Voss, 9.35
The next round will be starting in five minutes. Stay tuned.
1:30 p.m. Golladay scores 9.54, the highest score of the round. Simrun Hundal finishes off the round, performing for the second time in the Slam, scoring 8.96.
1:21 p.m. Tess Kessler receives a score of 8.34 with her courageous poem. Now, Brooke Golladay performs in her third Poetry Slam, with her poem titled, "Dear Reader."
1:17 p.m. Kenzie Iverson starts the fourth round off with an intense, moving poem about gay rights, receiving a score of 8.96. Kyle Ingraham scores a 7.93 in his poem. Omar Husain performs in his first Slam, performing a poem about romance and receiving a score of 8.4.
12:58 p.m. Zimmerman scores 9.13 in her not so awkward poem. Audrey Gleason, Tracy Monahan, Emma Rutherford and Sydney Thompson performed as the first group of the Slam, rapping to the rhythm of  the popular song"Thrift Shop." The girls score a 9.13. Esther Yu finishes off the round with a score of 8.91. Now, graduate Tom Jackson is about to perform a poem about helping those who are struggling with depression and hard times. His poem is titled "The Forgotten."
12:50 p.m. Swearingen scores 9. 58 in his poem about ramen. Zach Ziegenhorn, one of only three freshmen performing in this year's Slam, performs his poem about struggling to become perfect, scoring a 9.38; Natalie Zimmerman performs her "awkward" poem.
12:43 p.m. Kirk Bado performs his poem, motivated by his passion for running, scoring a 9.42. Anthan Swearingen, founder of Ramen Club, has just begun his poem inspired by ramen noodles.
12:39 p.m. Dylan Marshall starts off Round 3 with his poem "Mad World," scoring 9.23.
12:29 p.m. In Round 2, Alexandra Swanson received a score of 7.98 in her poem about personal strength; Aaron Bullard earned the third highest score (9.52) of the round so far with a poem about the ocean; Sam Gross swept the round with a score of 9.83, in his poem prompting students to think about more than just their own lives; Chandler Voss moved all in the NW library with her poem about striving for perfection, earning a score of 9.35; Darielle Criss got the crowd laughing with her poem about her quirky personality, and ended up with a score of 9.7, taking second place for the round; Kristy Gentry's short but powerful poem about her little brother earned a score of 9.5; and to finish off the round, Serena Clark performed her poem about an artist losing her muse, ending the round with the score of 9.26.
12:15 p.m. Round 2 includes a variety of poems.
11:56 a.m. Ethan Zolotor receives a score of 9.26 and Jonas Martinson receives a score of 8.35 after reading a poem where he talks about his time in Kansas.
11:51 a.m. Emma Smith receives a score of 8.66 and now Ethan Zolotor preforms a poem in which he name drops famous poets.
11:47 a.m. Michael Stanchik receives a score of 8.39 after preforming a humorous poem. Emma Smith is now performing her poem.
11:39  a.m. MCs Melanie Higdon and Nate Sterns are doing their introductions. They are going over the Slam rules.
11:35 a.m. Poetry Slam is about to begin.
Round 1 order
Michael Stanchik
Emma Smith
Ethan Zolotor
Jonas Martinson