Talent show features wide variety of acts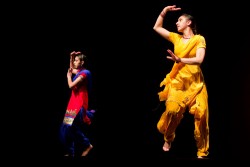 Story by Katie Addington
Photos by Nisha Bisht and Aaron Messick
Tap dancing, original songs and heart-felt poetry highlighted the fourth annual Talent Show on Feb. 13 in the auditorium.
The show showcased 24 acts including country singer Jackson Gulick, slam poetry artist Laura Assmann, break dancer Patrick Koonce and singer Alpha Hill-Spearman.
"It made me feel good about myself, being a freshman and all," Hill-Spearman said.
All of the acts received loud applause and visible support and the auditorium was packed with students and parents of the performers.
Comedian Issac Coleman was one of the highlights of the evening.
"Don't give in to peer pressure," Coleman said during his performance. "Whether they're on StuCo or your friends, Mrs. Illum is out of your league."
Emcees Galen Gossman and Sam Nobrega kept the audience entertained between acts.
The 2013 Talent Show left the audience that crowded into the auditorium satisfied. Several acts even received standing ovations.