Throwback: Album of the Week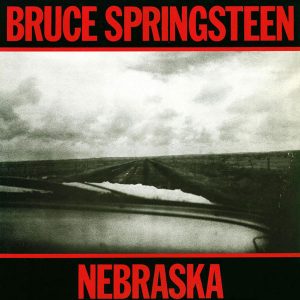 Bruce Springsteen: Nebraska- None of Bruce Springsteen's best songs can be found on Nebraska, but it embodies of one of America's oldest folk traditions: storytelling. If you were to pick any song at random, it would be weak. It's impossible to pick just one song and enjoy it; Nebraska has to be played all the way through.

I will admit that the first time I heard the album I was underwhelmed. It was acoustic and  slow.But I stuck to it and played it a hundred times over, and I became awestruck. Nebraska is bleak, raw and one of Springsteen's best kept secret.
The Boss recorded it on a four-track, alone in his bedroom, with the intention of taking the songs to his band for a new album, but it was decided to simply release the demos. So instead of a polished, eclectic album, Nebraska became a stripped-down tribute to blue-collar life. It's fitting, because each song carries a ballad-like theme of hard times; for example, the title track tells the real-life story of a teenage romance that ended with a spree-killing. Hearing Springsteen's echoing voice, backed only by himself, is haunting.
The recording process was rough, adding to the effect.The music is so distant that it forces you to listen to the words, because the stories are what matter. The Boss, a rock legend, proved to be a true folk chronicler.
This is my favorite Springsteen albums and possibly my favorite album ever. I have listened to it hundreds of times, and everytime I pick up on something new.
Nebraska is ten feature-length movies packed into one dark and frank album. It wasn't even supposed to be an album, but simply a demo tape. But that is why I love Nebraska so much. When an artist can sit down in a room with a cheap tape recorder and create beautiful stories, that is a sign of unadulterated talent.