Cougars Take First At LFS Invitational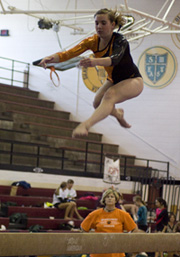 The Northwest Gymnastics team was able to walk out of Lawrence Free State high school on Saturday with yet another first place to tack on to their 2009 record. The Firebirds hosted an invitational that included Northwest, Emporia, Lawrence High, and Newton.
There were Northwest gymnasts in the top three in every event. Senior Sierra Trussell placed first in both floor routine and balance beam and placed 3rd in all around. Senior Mary Graves placed first in the uneven bars and 6th place all around.
"The JV really stepped it up today and that definitely had a huge impact in our overall score" junior Jessica Tingle said.
You can catch the Cougars again on Wednesday, 6 pm at Olathe East.