Gymnasts take third amid controversy [Slideshow]
The gymnastics team lost first place at state competition because of coaching error.
The gymnastics team placed third in a controversial finish on Nov. 7 at the state meet in Newton.
Coach Jackie Cipollini submitted an "illegal inquiry" for senior Sierra Trussel's beam score, resulting in a point deduction to the overall score of the team.
"When I found out we had the penalty, I didn't understand what had happened," athletic director Richard Grinage said.
"When they announced us as third, I was shocked."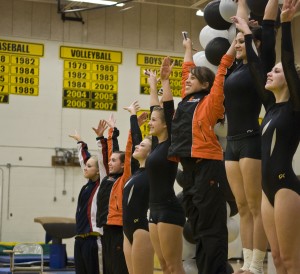 Becky Oakes, the assistant director at the National Federation for State High Associations, told highschool.rivals.com why the rule is in place.
"It's for the flow of the sport itself," she said. "To allow a coach to always question an official could really interrupt the flow of events for the athletes and the competition."
Trussel at first expected the deduction to be appealed, but later found it was not appealable.
"We were kind of hopeful it would change," she said. "I think we're kind of getting over it. We know we were the better team, and we are the better gymnasts."
The deduction can be compared to strike in baseball, in that the judge's call cannot be overturned.
"It's hard to accept when someone makes a mistake that costs the entire team a point," Grinage said. "For me personally, the whole thing was very hard to accept."
Cipollini told the KC Star, "The Shawnee Mission Northwest Cougars gymnasts showed their strength, their pride and their confidence. They were the team to beat. People in the stands stood and watched. We were the strongest team and had the highest score with 103.9 points, but, because of a ruling that has never been enforced in 30 years; we got a 102.9 and were third place."
Grinage later explained the situation to the gymnastics team.
"The girls took it well. We have a very mature team."
Trussel said she was happy with her performance overall.
"I thought we did the best that we could. We scored the highest that we had all season," she said.
Grinage who attended the state meet to support the team said he has a hard time acknowledging what happened.
'It's still hard to believe that a penalty like this could cost the state championship. I wish it wouldn't have happened."