Gymnastics team starts 2009 season with hard-fought victory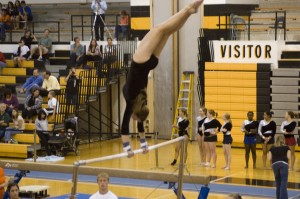 The Cougar Gymnastics team kicked off their 2009 campaign Wednesday night at Shawnee Mission West. The girls were in a heated competition against Shawnee Mission West High School, Lawrence Freestate, and Lawrence High.
"We were really relaxed coming into the meet, which I think made a difference in the way we performed" said Senior Mary Graves.
Throughout the meet no one team had a clear lead. The Northwest girls went out and conquered the uneven bars taking the top three places. which w
as shocking, considering a handful were suffering from calloused hands.
"The first meet is the best to get off on" said head coach, Jackie Cip
ollini. "Not all the girls were 100% physically and mentally coming into the meet, but all of them stepped up and pushed through whatever was getting to them."
The Cougars valiant effort earned the team 1st place and the first victory of the season. Senior Mary Graves took first place all-around, and Junior Jessica Tingle took 3rd in all-around.
The girl's next match is Tuesday, September 4th, at Shawnee Mission North.