Cougar gymnasts take 3rd at state
The Northwest gymnastics team traveled to Newton this weekend to compete in the State Championship meet on Saturday. The girls had performed well, but received crushing news during the awards ceremony. Their toughest opponent, Lawrence Free-State, had tied for first place with Newton High School while the Cougars placed third.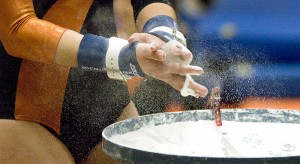 Controversy erupted in the gym. The Cougars had entered the fourth rotation of the event with a .4 point lead above Free-State and Newton's scores were not high enough to even put them in the running for the top three places. It was unclear what boosted Newton's score, but it is obvious what led to the Cougar's demise.
After a question had come up about one of the Northwest gymnast's beam score, NW coach Jackie Cipollini went to the meet referee to propose and inquiry. The rule book states that an inquiry must be submitted within five minutes after the last competitor finishes. Unclear on the coaches intent to submit the inquiry, the referee deducted one point from the Cougar's team score, which according to one of the judges, hadn't been enforced in her 30 years of being part of the gymnastics program.
According to the official rule book, a .1 point deduction is given in the case of a late inquiry, the Cougars were given a 1 point deduction which is only given if the inquiry delays the meet, and in this case it hadn't. Athletic director Richard Grinage and NW principal, Bill Harrington, are looking to appeal to KSHSAA to reverse the decision, giving NW first place.