Cross Country takes second in the Greg Wilson Classic
On your mark…get set…GO! The Northwest boys and girls cross country teams began their 2009 campaigns on a strong note, taking second overall in the Greg Wilson Classic on Saturday. But in classic Northwest style, Coach Van Rose is not satisfied with anything less than perfect.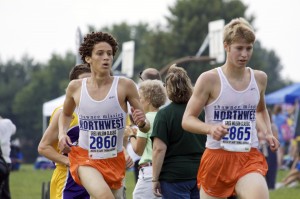 "I don't think we were very well prepared coming into the meet," said Cougars head coach Van Rose. "We haven't had any time trials previous to today and no one was pacing very well."
The Cougars had a tough start to the race, as many of the Northwest runners got tangled up with the slower runners in the back of the main group. Throughout the race, the Northwest group slowly made their way towards the front. In an all-out sprint on the last leg of the race, junior Sterling Spencer edged out the rest of the competition, taking home an individual first place with a time of 16:31. Aaron Thornburg was hot on his heels the entire way, followed closely by the rest of the Northwest team.
Senior Christine Nelson played an important role finishing third in the girl's race.
"I was extremely happy with the way everybody ran today; we just need to learn from our mistakes and improve for next time." said Rose.
The Cougars will get their next shot at redemption September 19, when they will run in the Roosevelt Heartland Classic, in Indianola, Iowa.