Wanderlust
Wanderlust 
was another typical, plot-less Jennifer Aniston movie. Having said that though, it was still kind of funny. Paul Rudd (George) stars opposite Aniston (Linda) as they try to figure out the direction their life is going after their attempt to succeed in New York fails.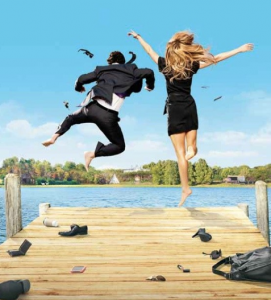 On the couple's way down to his brother's house in Georgia to "restart" their lives, they decide to stop at a bed and breakfast called Elysium. Pulling into a dark, wooded area, they are greeted by a naked man walking towards the main compound of Elysium. George and Linda continue to his brother's house. They then realize that they want to go back and stay at Elysium because they don't want to live a life that isn't how they pictured it. Hilarity ensues as the odd and eccentric mainstays at the property try to teach George and Linda their way of life.
Although Wanderlust was funny, the humor was very crude. A lot of sexual puns and jokes about nudity and toilets dumbed the movie down. The commercials made the movie look like it would have some decent humor, but honestly, there were very few points where I was laughing out loud.
The life that was depicted at Elysium seemed very free and accepting, which would be fun to try for a while, but it is unrealistic. The movie set was amazing and made for some great scenery; unfortunately,the scenery was ruined by how crassly the people acted.
With such a low level of comic maturity, it was hard to take the movie seriously. The comedy was decent, but forced. It seemed like they were trying too hard to make this the next Hangover.
The crude humor and the outrageous situations give the viewers some cheap laughs, but overall Wanderlust shouldn't be your first choice the next time you visit your local movie theater. If you found the Bridesmaids laugh-out-loud funny, this is the perfect movie; otherwise, it's not worth seeing.