This year in sports: Best performances
John Hauk's last game
The seconds ticked away. As SM North quarterback Kyle Goodburn was wrapped up by NW defensive end Justin Walston, he threw the ball up in a desperation play. Junior linebacker Tyler Gilliam picked it off and ran it back until he was tackled. The game was over.
This was the last game for the seniors, including linebacker/running back John Hauk. For Hauk, it was bittersweet. Bitter because it was his last game, and sweet because it was a win and everyone did well. Hauk had rushed for 222 yards, had two touchdowns and had seven tackles.
"I didn't want to end like that," Hauk said, of the disappointing loss to SM East.
Hauk had to play running back all year because senior Trey Jacobson was injured. Last year, Hauk usually played linebacker and his offensive position was fullback, so he wasn't used to carrying the workload for the offense.
"It was a lot different ," Hauk said. "It was a lot of fun though."
Hauk plans to attend Fort Scott University to play football. He plans to continue as a linebacker at the next level.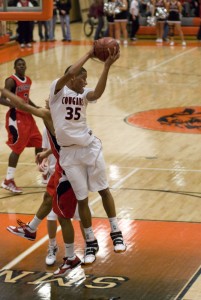 A.J. Spencer's triple-double
The gymnasium was tense. As Northwest fans waited in anticipation for their basketball team to run back onto the court, junior forward A.J. Spencer took some last-minute lay-ups before game time. This was Spencer's third year on varsity basketball, and he was hoping for another successful year.
To start the season off on the right foot, the Cougars needed to get past rival SM North. They did just that with the help of a triple-double from Spencer.
"It was the first game of the year, and I had the jitters," Spencer said. "It was a good way to start off the year."
Spencer had 21 points, 10 rebounds and 10 assists en route to a 75-48 victory against the rival Indians.
"I didn't know I had until I checked the box score. It felt good," Spencer said.
The victory helped the team start the season strong on their way to a 13-7 record.