Throwing the distance
She can sing, play the piano, figure statistics, read Shakespeare, and she's going to Duke. Oh, by the way, she is a national champion in Discus, too.
"I definitely want to compete at the post-collegiate level, you know, like Worlds (World Championships). If the Olympics are an option, then I would definitely want to try-out."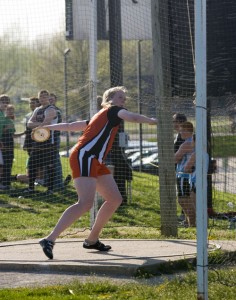 There are very few high school athletes in the entire country who utter the words "compete" and "Olympics" in the same sentence. One of those few athletes happens to be a NW student.
Erica Brand, a three-sport varsity athlete, was a state champion last year in the discus and placed second in the shot put. She was named to the 2007 and 2009 All-metro track and field teams and was a state finalist in 2007 and 2008.
Brand's award recognition does not stop at the state or regional levels. She is also a two-time AAU Junior Olympic champion in the discus, and she has placed second and first at the USATF Junior Olympics in the discus. Last year she travelled to Bressanone, Italy to represent the USA at the IAAF World Youth Championships, where she placed 14th.
Brand said her passion for the sport started the summer before sixth grade.
"I actually started throwing because one of my neighbor's parents were former throwers, so when they wanted to get their daughter started into throwing, they just kind of invited me along," Brand said.
The neighbor turned out to be SM South thrower Alix Richards, who is the same age as Brand, and took a close second to Brand at the Kansas State Championships last spring.
Yet, surprisingly, Brand has managed to keep a reasonably low profile, most likely because she possesses a sense of quiet humility that great athletes seldom have.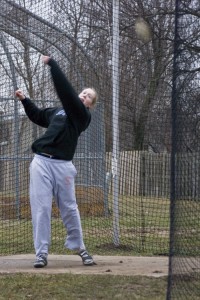 "She holds all of the NW records in the discus and shot-put, and she is likely to break the Kansas state record this year in the discus. But you wouldn't know it if you talked to her," senior thrower Kent Hollingsworth said of Brand.
"Erica is a quiet leader. She leads with her actions, not with her words," said NW throwing coach Jessica Barger.
Few high-school athletes that have signed letters of intent to Division 1 level schools such as Duke, where Brand is headed next fall, can discuss their own successes in such a low-key manner.
"I am very excited to go to Duke and compete for them. It was kind of weird, the recruiting process I had with them , though. They had contacted me a long time ago, but then their coach left and he took all of his recruiting stuff. So that left the new coach kind of in the dark as far as recruiting goes. I didn't hear back from him again until last year," Brand said.
The new Duke coach, B.J. Linnenbrink, is from Lee's Summit, which may have helped him establish a connection to the KC metro area. Before his successful two-year stint throwing at Florida State, Linnenbrink dominated at the junior college level, earning two NJCAA All-America honors at Johnson County Community College.
"Erica has long levers and a great height advantage on most other throwers in the country. That, coupled with her athletic ability, will make her a fantastic thrower at the collegiate level," Linnenbrink said.
"Erica has the ability to come in as freshman and make an immediate impact in the ACC in the discus and shot put and be an NCAA national qualifier in the discus. She will also learn how to throw the 20lb indoor weight and the hammer."
Brand has similar intentions.
"I would like to make it to the NCAA Championships, maybe not freshman year, but I think I definitely have a chance of making it to the championships," Brand said.
At the SM South relays, the first real meet for the Cougar varsity athletes, Brand threw 149 feet and 7.5 inches in the discus, winning both discus and shot put. Her first throw currently puts her at no. 4 nationally for the discus, according to Kansasrunners.com. She out-threw the second place competitor, her old friend Richards, by nearly twenty feet, and she out-threw the farthest boy's throw of 148 feet. Last year, she won the Kansas State championship with a throw of 151 feet, so her first meet success should be a good indicator that she can repeat as state champion.
"I think I can win state this year. I won it last year, so I should have a pretty good shot at the championship again," Brand said.
Throwing is but one of Brand's athletic interests. She was a two-year letterman on the volleyball team and a three-year letter earner for the girls' basketball team. She was also named to the 2009 Sunflower League Honorable Mention team for basketball.
But Brand is more than an athlete though. She carries her competitive nature with her wherever she goes, whether it be the classroom or the court. On any given day, she wakes up with weights first hour. Then during third hour, she can be found sitting at the piano singing with the acappella choir. And then she goes to one of her four AP classes. And then she goes to practice for three hours.
"One of Erica's best qualities is that she is so coachable. Erica is a perfectionist, in school, volleyball and track and field. When I give her constructive criticism, she takes it and works her butt off to fix it," Barger said.
As an athlete, she has proven that she can more than hold her own, whether it be at a high school meet or a world championship. As a student, and as a leader, she has pushed herself to succeed. And if her career stays on the same trajectory it is on now, it would be smart to have cable in 2016. There could be a Cougar at the Olympic Games.