Running Down the Street
Both boy's and girl's track track teams are having early season success.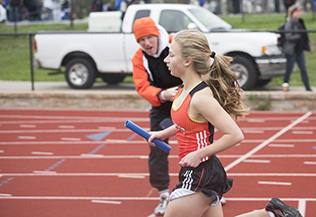 The mid season mark is coming up and the track and field team has been successful. The boys team is coming off a win from the Blue Valley relays last week, and the girls had multiple high finishers.
"We have been able to put a lot together in the field events; guys medaled in every single field event at South Relays," thrower Travis Morrison said. "That confidence carried over to Blue Valley and will hopefully a lot more to come."
At the Blue Valley Meet, the distance medley relay team of Camille Henderson, Hanna Gruman, Hannah Black and Molly Born took first as well as broke the school record with a time of 12:35.89. This is the second record that has been broken this season. The 4×1600 record was broken by Henderson, Gruman, Riley Demo and Born at the SM South relays.
"It has been a crazy and amazing start to the season," Born said. "We have been talking about breaking those records for a long time, but we've never been able to. The fact that we were able to break them this year with three seniors in the 4×1600 and two seniors in the dmr (distance medley relay) is just the icing on the cake."
Along with the success of the distance runners, another bright spot has been Sarah Peterson who took first at the Blue Valley Relays in shot put.
"Having taken a year off, I didn't really know what I was walking into," Peterson said. "All I can hope to do at a meet is to go out and hopefully throw far enough to get us points."
For the guys, it has been all around success. At Blue Valley Relays, Travis Morrison placed first in shotput, Kaden Bower placed first in javelin, Seth Mosburg won pole vault and three relay teams earned second place finishes. The boys team also took first place at the SM South relays earlier this month.
"This year, our track and field team has done exceptionally well at fields events," javelin thrower Noah Simbeck said. "Preseason expectations have been blown away."