Spring sports preview: Track and Field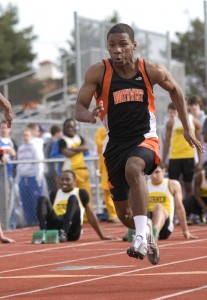 Three senior track athletes signed with NCAA Division 1 schools this fall and are now working to end their high school careers on a high note. Senior Lisa Imgrund will attend Missouri State University, Christine Nelson is headed west to the University of Wyoming, and Erica Brand will move east to Duke University.
"Christine, Lisa and Erica are all very talented, and they will be critical at the State meet, but where we place at league and other meets depends on the strength of our depth," coach Mike Cooper said.
These three athletes, along with senior Kirstie Sanders, look to lead the girls' team to a top five finish in the state meet.
For the boys, seniors Keaton Jones and Greg Wynn and junior Aaron Thornburg will lead the team. Jones was on the 4×800 relay team that took second at the state championship last year and shattered the school record. Thornburg placed in the top four in two different events last year at the state championships. Wynn was one of the Cougars' top sprinters last year but could not compete at the state championships due to a conflict.
"We definitely have plenty of depth. We have 30 more kids this year than last year, and we had a big team last year," Cooper said. "I would expect our depth to help us at the Sunflower League meet, but, at State, it's more about quality than quantity."
Seniors Drew Lorei and Cameron Weekly should also contribute to the team in the field events, with Lorei in the long jump and high jump and Weekly in the pole-vault.
"It's too early to make any predictions right now, but I think that we have a shot at top three at state," Cooper said.