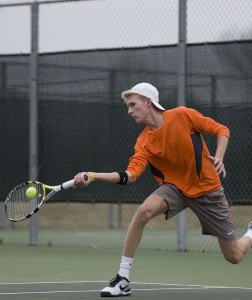 Last year the tennis teams' biggest problem was figuring out who to put on the varsity roster because they had so many players who were just about good enough. This year those players who were on the verge hope to create a strong varsity team.
Senior Max Wiebrecht has been on the team all four years and competed for the No. 1 spot last year. This year he will be the No. 1 singles player, followed by junior Hunter Holman.
"Max is our No. 1, but he has missed some time to finish his hockey season," coach Ken Clow said.
Wiebrecht will be the only senior in the top eight players, which consists of all juniors except for two sophomores.
"Right now, we're just trying to figure out who fits where by playing challenge matches. We've really just been trying to work on everything a little to get ready for the season," Clow said.
The Cougars hope to place in the top five at the league tournament this year, where they placed fifth last year. They also took second at the district tournament last year.
"We have a pretty deep team, which will help us a lot at league. Last year, we didn't qualify anyone to State, so I have no idea how we'll do there," Clow said. "I do think we can place in the top two again at districts."