Spring Sports Gallery: Boys' Tennis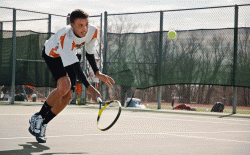 This year the boys varsity tennis team will start with two new players and eight returning players. The varsity team lost their match against the number one team in the state, BV North, by 1-11 on March 29.
"We have two new freshmen, Reagan Walsh and Tyler Garland, both of whom play exceptionally well at such a young age," senior co-captain Vivek Patel said. "We lost four of our top six players this year, but everyone improved over the year and our level of play is considerably higher."
The team will host a match against SM East on April 8 at home at 3:30 p.m.
" East is the defending state champions and out toughest competition all year," Patel said. "I think we will stand a good chance against them this year, especially with our stronger varsity ."
Last season the team had only one doubles team qualify for State. They placed fifth overall. This year Patel believes the team will be able to qualify two doubles teams.
"We have a new coach, Rick Walsh, and he's been doing well helping Ken Clow have us progressing as a team," Patel said. " All in all I would say the outlook is great for the rest of the season."
photos by Lucas Silva and Carleigh Whitman