Over the past three months , Swimming , Boys' and GIrls' Bowling and wrestling have been working hard to wards their final goals and competing at their repspective state tournaments.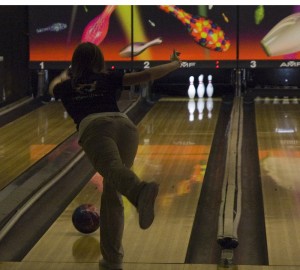 Following a successful regular season, the girls' and boys' bowling teams have been preparing for tomorrow's Regional Meet at Olathe Mission Bowl.
Only two state qualifiers, seniors Brett Dowell and Nick Michalski, returned to the boys' team from last season. Yet, the team's success has pushed aside any thoughts that this would be a rebuilding year .
"Honestly, I thought we were only going to have four bowlers on the boys' team, and they would all have to bowl really well for us to do well because we lost a lot of good bowlers last year. But Marcus Paccapaniccia was a great surprise to the team," coach Britton Haney said.
With a 46-4 combined record, the boys' and girls' varsity teams head toward regionals with promise, but they still need to take care of business.
"First, we have to make state." Haney said. "We have to all show up at regionals and bowl enough to get there."
The boys' team has hit all sorts of milestones this season. Senior Shane Jennison has had an 11-strike game and bowled a career high game of 279. Senior Brett Dowell bowled a 709 series, which topped the school record in a three-game series.
At the last meet of the regular season, Michalski bowled a 250, and for almost the whole season, he has been scoring series in the high 600s.
"The boys are just more competitive this year. They have all stepped up." Haney said. "With the girls, we had a huge surprise in Laura Konecny and Janie Queral. Konecny has just been awesome, and Janie has broken many records for the team."
The girls have a 24-1 record, a great improvement from previous years. Bowlers like Konecny, Queral, and senior Laura Highland have much bowling experience and are proven leaders on the varsity team. Senior Loryn Goebel came out for the team for the first time this yearand has given the Lady Cougars a big lift as well.
The team recently challenged and beat SM West, normally the team's toughest opponent. The Viking bowlers have been a thorn in the side of the NW team since bowling started three years ago. However, for the second year in a row, West was heavily defeated by the Cougars.
"Being new to the team, I had no idea on what to expect. We have about four top bowlers, when most teams only have about two or less." Loryn Goebel said.
In the last regular season meet, Jennison had nine strikes in a row in his first game, but he lost the tenth strike when a teetering pin refused to fall. Jennison finished with a 267 game, leading all bowlers. Michalski averaged a 218, also helping the cougars to a big win as their regular season ended.
At the Sunflower League Tournament, the 24-1 girls medaled for the first time, finishing third.
The boys did not do as well as they finished sixth. Regionals will be the most important meet of the year for the boys who will be trying to bounce back from their Sunflower League woes.
"I need to step up my game for regionals. And the entire team needs to really focus on it, because regionals will lead us to state." Dowell said. "I have been bowling a lot to prepare for Regionals. Mentally, I just try to not get down because that's what kills you."