"Laurel Hell" by Mitski: Album Review
Dropped 10 years after her first album, Mitski's voice remains present in her newly released sixth record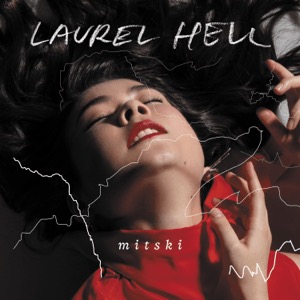 4 years after her last album's release, singer-songwriter Mitski dropped her sixth album, "Laurel Hell" on Feb. 4. It is vastly different from her past albums, but still entirely her. Even though her music has undoubtedly changed over the years, her voice remains the same since her first album from 10 years ago. In exploring her relationships with other people and even her own art, Mitski reveals things about herself in such a poetic and beautiful way – that much remains the same. 
The four singles released prior to the 11-track album, "Working for the Knife," "The Only Heartbreaker," "Heat Lightning" and "Love Me More" were absolute masterpieces, setting the tone for the varying genres and themes Mitski would explore in the full length album. "Working for the Knife" is a very reflective, near-dystopian sounding song, which demonstrates Mitski's relationship with her own passion for art and music. Releasing this single first was a very interesting way to set the tone for the album; she talks about how her art will kill her as she begins the journey to her next record's release. "The Only Heartbreaker" was a vastly different type of song – much more upbeat and reminiscent of 80's techno. Using this strange genre under her lyrics of self-destruction in relationships oddly enough made it all the more hard hitting and I somehow knew this would be the general vibe of the album. 
Upon the album's release, Mitski also dropped the music video for "Stay Soft," a song about vulnerability ending with pain. Another meta choice for the order of release, as this being the first music video from the rest of the album shows how her vulnerability in her lyrics is something she deems "dangerous." Using her art as a message about itself is something not seen often enough in music, and while it may not have been clear with the song itself, the release order sent a different message. Genius.
As I sat in my dark room listening to the full album with my headphone volume cranked too high to be healthy, her lyrics sank in at the same time as the upbeat chords. There were some lower energy songs, of course, which were equally as stunning and thought provoking. This album is an experience to listen to all the way through, with each song standing out. Although it's almost impossible to choose, some of my favorites include "Working for the Knife," "Should've Been Me," "There's Nothing Left Here for You" and "I Guess," each marinating in a different way. 
I have been a huge fan of Mitski for a couple years now and nothing will ever beat that first listen. This is especially true when listening to "Laurel Hell" in its entirety for the first time. All of her lyrics are true poetry, with intense metaphor and symbolism and her growth as a lyricist has made her prior 5 albums that much more enjoyable to listen to. Her music is beautiful and tragic and hopeful and so many other things that can't possibly all be listed. This album does not change that. 
While I can't quite call it my favorite Mitski album (yet?), "Laurel Hell" is a true masterpiece. For anyone wanting to get into Mitski's music, I would recommend it as a good place to start, despite it being known as Mitski's final album. It is so unequivocally "Mitski" while not being the intense performance art genre so many people get turned off to at first. Overall, I may be biased with my immense love for Mitski, but this album is a solid 9/10 for me. The mix of upbeat music with depressing lyrics is just my cup of tea, and it is classic Mitski. This is a great album for self-reflection as well as just jamming out. I can't recommend this enough.