Northwest survives physical battle versus Raiders, gets second win of the year
After a disappointing loss to Washington last Saturday, the boys basketball team shuts down Will Spradling and Shawnee Mission South with a 38-35 victory.
Following a difficult loss to Washington High School in which the Cougar basketball team gave up a surprising 62 points, but a refocused defensive intensity propelled Northwest to squeak by Shawnee Mission South.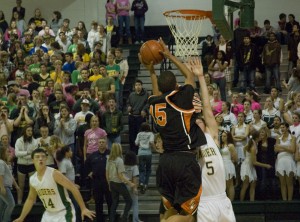 " It was a physical basketball game and tough one to call," coach Mike Rose said.
Throughout the game many questionable calls were called by the officials, but the main story of the night was shutting down Raiders sharpshooter Will Spradling. The Kansas State Signee was held to only 3 points mainly because of the suffocating defense of Senior Nick Feighner.
"We wanted to pay a lot of attention to Will, He's a great player, " Rose said," Nick had to defend hard and he defended very very well for 32 minutes."
The Cougars began the game on a quick 6-0 run with Junior Trey Fruehling leading the attack. Fruehling led all scorers with 9 of the teams 11 points in the first quarter.
Then South countered winning the second quarter 11-8, but the Cougars still were able to hold Spradling to 2 points until 6 seconds left in the half.
Throughout the night the Raiders relied on the three point shot refusing to pound the ball inside against the much taller Cougar team. South was able to hit some threes early in the fourth quarter, but still struggled to make hit shots down the stretch.
"They relied on three point shot a lot and they can knock it down it's a nice strategy for them," Rose said.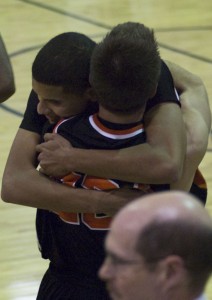 At the end of the fourth quarter, the Raiders began to stall in the final minute, but some missed free throws by Shawnee Mission South and some key baskets by senior leader Steve Carver the Cougars took over the lead in the last 30 seconds.
In the final seconds both Carver and junior AJ Spencer knocked down key free throws to stretch out the lead, but a scramble by players turned out to be Spradling's fifth and final foul eliminating him from taking the game winning shot at the end of the game.
" It was a great battle and fortunately we came out on the winning end tonight, but things could be different down the line," Rose said.
The Cougars improve their record to 2-1 on the year. The next game will be Friday December 18 against Lawrence High School at SMNW Gymnasium. Then on Saturday Northwest takes on Rockhurst in the HyVee Shootout at Avila University.
Scoring Summary:
Shawnee Mission Northwest
Trey Fruehling- 10 points
AJ Spencer- 7 points
Drew Goodger- 6 points
Steve Carver- 15 points
Shawnee Mission South
Will Spradling- 3 points
Jake Reid- 5 points
Andrew Winkler- 10 points
Rayner Fredrick- 5 points
Dylan Christe- 6 points
Alex Moyer- 6 points