Trend of pretend
A trip to the Renaissance Festival inspired two students to bring medieval warfare to life in Shawnee Mission Park.
Breathing heavily, he sprinted down the hill attempting to eludetwo opponents — one armed with a bludgeon and the other with a spear. Adrenaline kicked in, but nerves were getting the best of him as he ducked behind a tree. Thinking he had escaped, the boy turned to see three more opposing warriors. There was nowhere to go.
In reality, he is in no serious danger, just taking part in a LARP (large action role playing).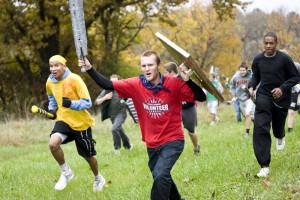 After attending the Kansas City Renaissance Festival in September, seniors Sam McCrillis and Bobby Hoelting were inspired to do something out of the ordinary.
"It was a cool experience. We went home and watched Role Models, which also inspired our interest in LARPing," McCrillis said. "We came home and tweaked the rules a little. We were really excited about getting it started."
McCrillis and Hoelting, both members of the boys' soccer team, shared their idea with the rest of the team, who welcomed LARPing with open arms.
" Boren actually got pretty mad because people were talking about LARPing way too much that practice instead of focusing on soccer," McCrillis said. "They were pretty excited about it."
They had an idea. Now all they needed was a way to spread the word. McCrillis and Hoelting created a Facebook event and invited all of their friends to attend the first Northwest LARP event at Shawnee Mission Park.
"People were spreading the word throughout the school, and eventually everyone was talking about it," McCrillis said.
Among the people to notice the Facebook event was Russel Haynes, a regular LARPer at SM Park. Haynes then contacted McCrillis over Facebook.
"He actually helped us out a lot," McCrillis said. "He showed us how to make weapons and gave us lots of ideas."
Once everything was planned, it was time for the action to begin. The first NW LARP event was held Sept. 27 at SM Park. More than 70 students attended.
The winning team was the Compton Coons of Coonsylvania, led by junior Jacey Drummond.
"It was cool to win. I felt like kind of a nerd at first, but once I started slamming people..," laughed junior A.J. Spencer. "It got better as it went on."
LARPing can sometimes be dangerous. A couple of injuries that took place at the first NW LARP.
Sophomore Eric Zoellner's shield was broken in half and he sprained his wrist. Sophomore Collin Pendleton was struck in the neck by junior Brooks Foreman's weapon and knocked unconscious.
"When you see three people running at you with weapons, you really just want to take off and hide. It's an adrenaline rush," McCrillis said. "Essentially, you're just swinging your weapon at people and trying not to get hit. It started really defensive because no one wanted to get hit, but eventually everyone started to attack."
The next NW LARP event is planned for Dec. 19, but check the Facebook event page for changes.
History of LARP
It's difficult to pinpoint the origin of LARP (live action role-playing), because even childhood games such as "cowboys and Indians" and "house" are considered forms of role-play. Forms of LARP have probably been being practiced since the origin of the human race.
Ancient Romans and medieval Europeans organized events in which they pretended to be from an earlier time period. The book The Club of Queer Trades, written by G. K. Chesterton in 1905, contained LARP-like adventures and may have been the basis for later ideas in LARP.
Model League of Nations clubs formed in the United States in the 1920s. Participants reenacted history in these events which was seen as more of a recreational pastime than a game.
However, the term LARP was first used in the late 1970s, when individual groups began to practice fantasy role-play. The first recorded LARP group was called Dagorhir. It was founded by Bryan Weise in Washington, D.C., in 1977, and featured combat-oriented battles using foam, dark age weapons, such as swords, spears, axes, javelins and bows and arrows.
In 1981, the International Fantasy Gaming Society formed in Boulder, Colo., based their rules on the popular table-top, role-playing game Dungeon and Dragons.
LARP has since spread all over the world, taking many different forms of role-play.