Broken hearted
Ben Meseke has given his heart and soul to Northwest for the past 12 years, teaching math and coaching basketball, but a heart ailment has forced him to take a leave of absence.
A man whose life exudes character is hampered by the organ he needs most.
As the varsity boys' basketball team goes through their warm ups, the same figure stands below the basket, gazing at his team, ready for action. Donning a white shirt and orange tie, he ambles along the baseline, preaching words of encouragement and intensity.
His eyes follow every ball into the basket, checking for rhythm and technique. After the game starts, he moves up and down the sideline, barking at the officials and planning the next strategy to counter the opponent. As the seconds bounce away in the fourth quarter, the infamous red towel is pulled from a gym bag sitting behind the bench. He begins to wave it over his head, signaling the offense to begin the stall and prepare for a win.
It's been this way for 12 years, but this won't be a part of this year's basketball season.
On Nov. 6, coach and teacher Ben Meseke was decided to take a leave of absence because of a recurring heart problem.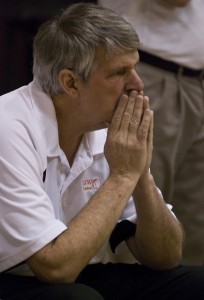 "Every year I go in to see the cardiologist before the season starts, just to get his blessing on everything. Every year he says everything's fine. Over the past 15 years, I've had two pacemakers put in and several operations on my heart," Meseke said. "But it's just been getting weaker and weaker. When I walk from the car to the office, it just wears me out, and it shouldn't be doing that."
After analyzing the results of his annual heart tests with his cardiologist, Meseke decided it was imperative to stop teaching and coaching so he could be put on the heart transplant list.
" want somebody that's rested and ready to go before they will do … It so hard teaching all day," Meseke said.
Less than 24 hours after the diagnosis, Meseke called his varsity players in for a meeting to tell them that he would not be their coach this season. The players were expecting a completely different meeting.
"We came in and Coach sat us down. Every year we talk about how close our team is and what our goals are gonna be for the year." junior forward AJ Spencer said. "My heart just, like, sunk. I didn't even know what to say."
The team was caught completely off-guard. Meseke had been present at all offseason conditioning drills and meetings preparing for the upcoming tryouts. Although he will still try to fill some role for the team this season, players will be answering to interim head coach Mike Rose. Rose played basketball at Northwest until 1990 and has been his assistant coach for the past two years.
"He's such a good guy and so knowledgeable about the game," Rose said, "I've learned a tremendous amount from him," Rose said.
"It just shows how big of a warrior he is because some of us get scared of movies and all that stuff, and he's been living with this heart thing forever, but he's never been scared," Spencer said.
Last week, Meseke checked into St. Luke's Hospital, and, as of Monday, he was declared free of other illnesses and will be put on the transplant list after a final medical test.