Dragon Rider Review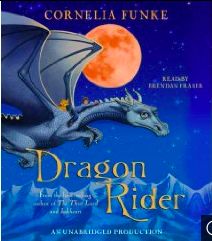 Rating: 5 out of 5
BL:  Téah Lierz
Dragon Rider by Cornelia Funke is one of my favorite books because the story hooks readers  from the beginning and keeps them  up all night reading it. The book does a fantastic job  embedding lessons throughout the storyline.  Two of the main lessons are showing the importance of trust and friendship, and  the importance of not judging people before getting to know them.
Firedrake is a brave young dragon who embarks on a dangerous journey across the world to find the Rim of Heaven, a place of safety for all of the silver dragons. If he can find the Rim of Heaven, the silver dragons will no longer have to live in fear of humans, and they will be safe from the golden dragon. Firedrake takes his friends Sorrel and Ben along to help him, and together they have an incredible adventure.  
It's easy to get lost in the story and feel like part of their fantastic  world. The characters are relatable. Firedrake has a lot of challenging obstacles he has to overcome, like most of us do. Ben is an orphan, and Firedrake takes him in. Ben is genuinely sweet and just wants a friend and someone that loves him. He would do anything for someone he loves. Sorrel has a bit of a temper, but she has a big heart.  She is extremely protective of Firedrake, and always has his best interest in mind.  He is like her family and she does her best to protect him, like most of us do with our family.  
Overall, this book is fun to read and gives the reader a sense of adventure. You feel like you really get to know the characters, they become your friends. This book pulls readers into an exciting world that they will  never want to leave.  Dragon Rider is a must read. It is a book that everyone will enjoy.