Cross country 3rd at state (Boys), 4th at state (Girls)
The boys' cross country team started the season with just one thing on their minds: win state. The team faced a lot of adversity throughout the season but seemed, for the most part, to fight through it.
In the first meet of the season, the team took first place with juniors Sterling Spencer and Aaron Thornburg finishing first and second, respectively. This talented duo seemed to carry the team throughout the remainder of the regular season. Seniors Keaton Jones and Collin Eubanks also played a major role this fall.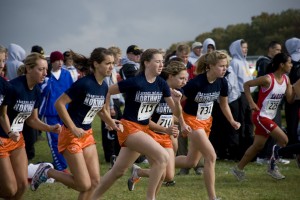 The girls' cross country team had an impressive season. Seniors Christine Nelson and Lisa Imgrund led the pack in nearly every race, including the first place (Imgrund) and second place (Nelson) finishes at the Sunflower League Championships.
ophomore Jessica Johnson stepped up and contributed to the Cougars' success too.
The Cougars traveled to Rim Rock Farm in Lawrence on Halloween morning to compete in the event that had been on their minds for more than a year. The boys finished third with Aaron Thornburg leading the way, finishing seventh overall. Sterling Spencer finished eleventh. The boys finished third, only 2 points behind Washburn Rural. Lawrence, who ended the 14-year winning streak last year, repeated as state champions.
"When you're that close from getting second, you keep looking at how you could have changed the outcome," Rose said. "I'm sure we would've like to run better but there's no way to shave off time."
The girls' team, on the other hand, ended their season on a high note. The Cougars took fourth at the state meet with Lisa Imgrund finishing sixth and Christine Nelson placing eleventh. Olathe East took home the team title.
Although this year has come to an end, the team is already planning how to be better next season.