Football team finishes on a high note, beating archrival North
Despite the chaos of Senior Football Night, Light Show and the crowning of the Homecoming queen, the Cougars finished above .500 for the season with a 28-12.
It is one of the accomplishments every senior class that goes through Northwest wants to be remembered for: beating SM North all four years.
" It's great for those guys to finish with a win," Coach Aaron Barnett said, "I've said that it's been a long time for me as a coach and for our program that the first three years we've always been playing for a chance on the last game of the year. But the upside of that is we get to check in our equipment after a win and very few teams get do that."
The Indians chewed up most of the first quarter on a 15-play drive that took the ball all the way down to the Cougar 7-yard line using a balance of running and passing. But a 25-yard field goal attempt by junior quarterback/kicker Kyle Goodbum sailed wide left.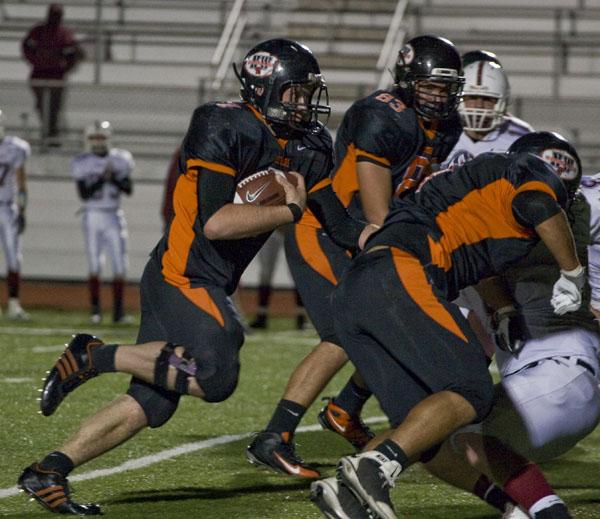 " I thought we got a little rattled because we were nervous about the game," Barnett said,  "But I thought we settled down, making some tackles, playing some assignment football."
The first quarter ended on a series of fumbles by both teams with none of the turnovers leading to points.
Following the scoreless quarter, the Cougars pushed down the field ending with a 18-yard touchdown by senior tailback Jon Hauk, his first of two touchdowns.
Three plays later Northwest followed up Hauk's touchdown with a fumble recovery and touchdown by senior Nick Caldwell that went for 41 yards and a 14-0 lead.
Beginning the second half, the Cougars insisted on pounding the football down the field using Hauk on 12 of the 14 carries on the drive. His 5-yard touchdown run to end the drive almost insured a Cougar victory.
" It's very important for us to not only have a good drive in the second half," Barnett said, "but to finish it off in the end zone."
Hauk finished the game with a season high in carries (36) and yards (222) and two touchdowns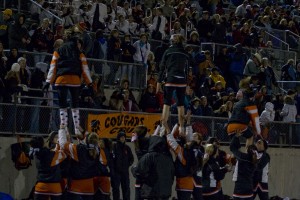 " The offensive line did everything for me tonight," Hauk said, "There was rarely time there wasn't at least a hole where I could get something."
" All the momentum we had coming  from this week: Homecoming, light show, Senior Night… we just wanted to end that with a bang," senior offensive lineman Grant Berning said.
The final performance by the seniors did not come without emotion. After the coaching staff talked to the players for over 10 minutes after the game, several players came out of the locker room with tears of joy mixed with tears of sadness knowing, for most of them, this was the last time they would play football.
"It's kinda bittersweet  but, if I had to pick a way for it to end, I don't think I'd change it," senior Will Greenhaw said, "I guarantee, 40 years from now, tonight is gonna be a night that I will remember."
Game Summary:
Second Quarter:
SNW: TD John Hauk 18-yard run (Matt Nowak kick) 9:40 ( 7-0 SMNW)
SNW: TD Nick Caldwell 41-yard fumble return (Nowak kick) 7:51 (14-0 SMNW)
Third Quarter:
SNW: TD J Hauk 5-yard run (Nowak kick) 5:37 (21-0 SMNW)
SMN: TD Joe Haas 13-yard run (kick failed) 2:18 (21-6 SMNW)
Fourth Quarter:
SNW: TD M Nowak 1-yard run (Alex Geis kick) 10:11 (28-6 SMNW)
SMN: TD Kevin McCleary 2-yard pass from Kyle Goodburn (kick failed) 2:31 (28-12 SMNW)