Rainy at Rimrock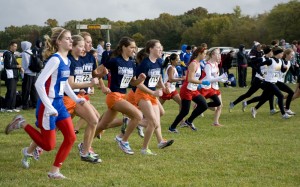 Harsh weather greeted nearly 800 runners at Rimrock Farm last Saturday for the Sunflower League Championships.  Rimrock is known for its tough course.  The early morning rain made this race even more difficult than any other day.
The NW girls didn't let the weather conditions get in their way.  Senior Lisa Imgrund took home the gold with a time of 15:43 while Senior Christine Nelson finished right behind her with another impressive mark of 15:45.  Although the duo finished in the top two spots, the girls placed third behind SM South and Olathe East.
With high expectations, the NW boys took their marks around 11 a.m. without one of their top Varsity runners Keaton Jones.  They also took third at the meet with Junior Sterling Spencer leading the pack finishing fourth and Junior Aaron Thornburg finishing eighth.
The Cougars will need to pick up the pace and let the adrenaline start flowing if they intend to win another state title this year.
The Cougars travel to Regionals this weekend, hoping to finish strong before the state meet.