Forty years after becoming the only cross country coach Northwest has ever known, Van Rose still has the same passion for running and continues to have a distinct impact on team members' lives.
After most students have already left the school and the parking lot has become a desert of asphalt, a lone figure lopes toward the building.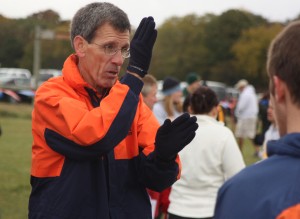 Through rain, sleet, snow, or heat, cross country coach Van Rose runs, both with and without his team. On the coldest days of winter, he dons his classic red Ohio State sweat shirt, stocking cap, a pair of shoes and runs. It's never just a 20-minute jog, but a full-on two or three-miler, something that most 16 and 17 year old kids have trouble with. And this is his 41st cross country season at Northwest.
Rose has coached 31 state championship teams, and three Foot Locker Finalists. The runners that he has coached have only great things to say about him.
"He made it so easy for anyone to join the team no matter what caliber runner they were," '07 graduate Tucker Weems said.
Even after all of this, Rose gives the credit to his runners, assistants, and his former coaches. It is easy to see why people think so highly of him.
Rose's story begins with a lanky sophomore in high school, who faced a choice between two fall sports, football and cross country. Rose chose to run on the highly- regarded SM North cross country team which took the state title. He then transferred to the newly-constructed SM West where he finished his final two years as a high school runner.
Rose enrolled at Kansas State University, where he met coach DeLoss Dodds and joined the K-State cross country team. Just four years after beginning to run cross country, he found himself on the Big 8 Conference Championship team.
"Our coach (DeLoss Dodds) was phenomenal, even now I model my coaching after him."
During his junior year, the team captured second place overall in the NCAA Championship.
"I was lucky to be on such a great team at K-State," Rose said.
After college, Rose taught at SM East for one year and then moved to the newest Shawnee Mission school, Northwest. Because the school was brand new, every coaching job was vacant. Rose quickly took the head coaching position and begin his coaching career. But coaching became more than a job for Rose; it became his passion.
"I hardly even see him during the season because he is always in his office working on new formulas on how to get better and to win," Rose's wife Judy said.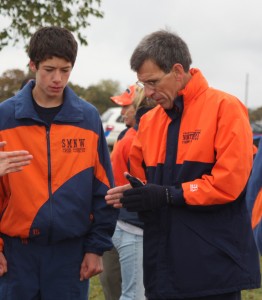 Every day after school, the team gathers in the wrestling room, patiently waiting for their running assignments. Rose walks quietly to the center of the room, immediately gaining the attention of everyone without uttering a word. Each day, he leads his team in core workouts, addressing what the team needs to accomplish that day.
"The most important thing about this job is making each runner feel important. There are so many runners now that it's hard to keep track of all of them, but I have to make them feel like they're more than just a number," Rose said.
Once core training is over, the runners make their way outside to the parking lot. Rose stands in front of the mob of eager high school students, sending each group off one at a time on a predetermined route.
"I am able to modify the practices to build on what the runners can do. I put them in certain groups and base the practices on which groups can do what," Rose said.
Each day Rose makes his way out of the parking lot and onto the streets for his own run, keeping an eye out for any signs of laziness on the part of his runners. After their training run, the team heads down to the track and completes the designated assignment for the day: an easy 400-meter jog or maybe a grueling sprint circuit. Toward the end of practice, the runners are drained and dead-tired, unlike Rose who comes jogging down to the track from his run almost effortlessly. He encourages his runners and pushes them through the final part of practice. But the training doesn't end at the conclusion of practice. Rose tells his runners to do yoga or some kind of weight-lifting to supplement their training.
"It's amazing because he gets the runners to do the little things like strength training and yoga. He does anything to make them better, but he keeps them happy at the same time," Rose's assistant, coach Rick Mankameyer, said.
The practices Rose runs are interesting and well-planned, but it's during the meets when he really earns his reputation. The team arrives at the meet location early, with runners traveling together on the team bus. Those who don't ride the bus are eliminated from the race by Rose.
After arrival, Rose determines when and what the runners will do before their race. Each runner focuses on his/her own race, but Rose worries about all of them. Right before races, he meets with the runners, delivering a motivational speech and a final rundown of the course. Before he departs from his runners for the final time, everyone forms a circle, hands in the middle, and Rose leads them in a group prayer that sets the tone and focus for the race. During the run, Rose wanders the course looking for his runners. As a NW runner passes him, Rose yells a quick compliment on their toughness and urges them to finish strong. The runner does not look up because Rose says that if you look up at the crowd, you are not mentally in the race.
After the meet, Rose is excited for the team's results, but, at the end of the day, winning is not the most important thing to him.
"I don't even care when we win state. I just don't feel anything. All I want is that the runners do the best that they can do. If they do that, I'm happy," Rose said.
"He cares about everyone and people respect him for that. Way more people than just NW students and staff are impressed by what he does because he has done so much with the sport," Lawrence cross country coach Brian Anderson said.
"He made me a better runner because one day he told me to run more in the off-season. He told me I could be dynamite if I ran more and, sure enough, I got a lot better," senior Christian Buller said.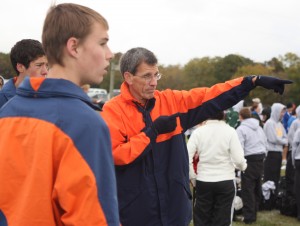 Rose has never been afraid to change things. Although he tries to keep his coaching style more or less consistent from year to year, new equipment and facilities have allowed him to experiment with new strategies. The combined total 31 state championships he and his cross country teams have won plus the 14-year winning streak that began in 1994 are testament that his dedication and experimentation have paid off. A year ago, that streak of championships came to an end, but Rose kept his spirits high.
"Mostly I was just feeling for the previous teams that made the effort to put the streak together. It almost seemed that last years' team thought they could just show up and would be handed the title," Rose said.
According to Rose, the team did not work hard enough in the summer which exacerbated the fact that some of his key training facilities, the pool and the weight room, were unavailable due to construction. These, however, are not excuses for the loss.
"He really doesn't care how well they do as long as they worked as hard as they could, and if that's enough to win state, then so be it," Mankameyer said.
The state meet is next Saturday, and Rose is as ready as anyone for the competition. The competition will be at Rim Rock Farm in Lawrence, one of the toughest courses in the country. It is composed of three hills with at least 40 degrees of incline. The course takes runners through the woods on a winding, muddy trail. Even though the course is challenging, Rose loves it.
"I would run it every meet if I could. It is very fun to compete there and it really challenges the runners."
This year the team is set on redemption, Rose is working hard to prepare the team for the challenge ahead.
Rose himself has no idea what the future holds for him as a coach, but he does admit that he won't be done until he can find another hobby to replace coaching.
"You can't just sit around and do absolutely nothing. So, right now, I'm just going to stick with coaching."
Van Rose has proven time and time again that he is one of the great coaches.
"Without him, I would have been playing soccer, but I wanted to be on a championship team and he made that possible," Buller said.
"Van has had a huge impact on me not just as a coach, but as a teacher. He always kept his composure in tough times and never lost his cool," '07 graduate Josh Weems said.
For Rose, the best thing about cross country isn't the winning, but visits from former runners.
"I just love it when they come to see me to say hello. I have met their children and been invited to their weddings. It's simply satisfying," Rose said.
"Cross country has made a huge difference in our lives," Judy Rose said. "Without it, life simply wouldn't be as fulfilling."
-Brady Klein and Andrew Zimmer