Kings and Queens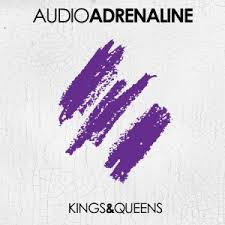 by Luke Megli
After five years of silence the critically acclaimed band Audio Adrenaline made their return. Their new single, "Kings and Queens", left die-hard "Audio A" fans feeling bittersweet to see that Mark Stuart (Former Lead Vocals) was replaced by new lead singer Kevin Max Smith (Formerly of dcTalk). Due to ongoing voice problems, Stuart had to step down as lead vocals, which led to the band breaking up that same year. Now with one original band member, Audio A has come back big with the release of their new album, Kings and Queens.
The album kicks off with the upbeat, "He Moves You Move," then slides into the song, "Kings and Queens," which has become the anthem for the orphanage in Haiti that the band has supported since they started the Hands and Feet project, which cares for children who have lost family in the island. Next comes "Believer," a song about trusting in God through the rough and tough. You been beat down / Kicked in the shins. / Never ever did they think you could win. / Like an underdog story, or return of the king / it's never really over till the fat lady sings, Kevin Max sings on the next track "King of the Come Backs." It's an upbeat, rocky, pop song. It's one of my favorite tracks on the album. The album continues with the worship songs, "Change My Name,"" 20:17,"" Fire Never Sleeps," and "I Climb the Mountain." The album concludes with Answer, a song about how God is the answer when you rise and fall in life.
Overall I think this is a very well done album, it's not perfect but it's the kind of songs you just want on replay. I would recommend this album to any fan of Christian Music. I look forward to seeing more of their new music. Hopefully the new Audio Adrenaline will last as long as the original did.
3.5/5