Searching for the right fit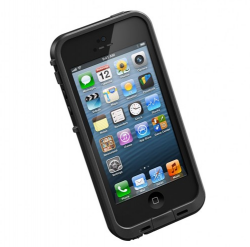 Are you one of the 11 million iPhone users in the US? If so, then you are probably searching for the perfect case to protect and stylize your most prized possession. There are hundreds of options to choose from when looking for a case, but based on research and first-hand experience, the following cases, in my opinion, will give you the best protection. These are my top three choices for protecting my phone. The cases are on the higher end of the price range, but as with anything, you get what you pay for.
#3: Otter-Box Commuter 
OtterBox has built itself into one of the most successful iPhone accessory companies by making some of the best iPhone cases. The Commuter Series protects your phone, but still keeps it looking good without adding a significant amount of bulk. The case comes with a silicone sleeve and a polycarbonate shell. A screen protector is included with the case, but it was not very high quality.The problems I ran into were the flaps that got in the way when I wanted to plug in headphones or charging cord. It was only a minor problem.
Price: $34.95
#2: Otter-Box Defender
The Defender Series is available for the iPhone 4, 4S, and 5. A screen protector is integrated into the case, and it comes with a holster and belt clip that you can choose to use or not. Note: It's only acceptable for a man to use the belt holster if you are over the age of 30 and have children. It's available in multiple colors.I had this case for about six months and it held up fairly. By the end of its life, the entire case was covered in scratches and the rubber had ripped on most of the sides. This case is very bulky, so if you are looking for a sleeker look, you might want to consider some of the other options given in this review.
Price: $49.95
#1 LifeProof
The LifeProof case claims to be the toughest case you can buy, and I agree. The case is waterproof, shockproof, dirtproof and snowproof, while still maintaining a sleek look and feel. The case makes an iPhone 4/4S the same length as an iPhone 5. There are, however, a couple of small issues worth mentioning. First, the headphone jack is difficult to get to. Most headphones and earphones won't be able to reach the jack without the included adaptor. There is also a tiny piece that screws into the headphone jack to waterproof the phone, it is small and there is a good chance of losing it.This is my go-to case. It is the toughest and the slimmest case I have found. The only downside is that it's pricey. I was skeptical about spending so much money on this case, but it lives up to the price. It is well worth it.
Price: $79.95