Review: Local Native's Hummingbird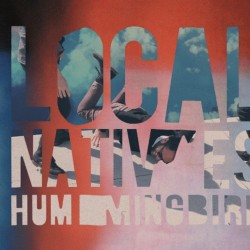 The Local Natives have never exactly been an "album" band. They have a few good songs, but listening to one of their albums all at once leads to a feeling of repetition: everything sounds essentially the same. The real pride of the Local Natives is songs like Gorilla Manor's "Sun Hands." Their newest album, Hummingbird, does not have the same flair.
The Local Natives play in an afro-folk style, and that may be part of the problem. It sounds as though they heard one song of the genre once and then wrote a long ballad about it. The rest of their albums are nothing more than taking apart that one song. However, listened to individually, the songs still have a lot of merit, it may just be one song but it's a good one. The one exception is the song "Mt. Washington," which makes a move away from their normal genre, into something a little more folksy.
"Mt. Washington" sounds like it comes straight from the soundtrack of a film like Juno, which isn't an unwelcome thing. Without the normally heavy beats of a drum kit, the song feels in a way calmer,, and almost more sad. It breaks up the monotony of the rest of the album. It feels as though the Local Natives finally made their second song.
The departure from the norm that "Mt. Washington" brings is good, but it doesn't save the rest of the album. Almost every chorus on the album is a snare-heavy, guitar-jamming backdrop to the singer giving a "woo" for a good 15 seconds. It leads to a very repetitive and tiresome album.
The Local Natives have a lot of promise and they've found a voice, which is good, but unfortunately they seem uncomfortable moving outside of that voice, despite how skilled they are when they do. While this album might not be worth a listen, the Local Natives' future might be.
PGlmcmFtZSBzcmM9Imh0dHBzOi8vZW1iZWQuc3BvdGlmeS5jb20vP3VyaT1zcG90aWZ5OnVzZXI6MTIxOTk2NjQzNDpwbGF5bGlzdDoxMjB3eGxDZFZTNjFTOEFMd1JNekF4IiB3aWR0aD0iMzAwIiBoZWlnaHQ9IjM4MCIgZnJhbWVib3JkZXI9IjAiIGFsbG93dHJhbnNwYXJlbmN5PSJ0cnVlIj48L2lmcmFtZT4=