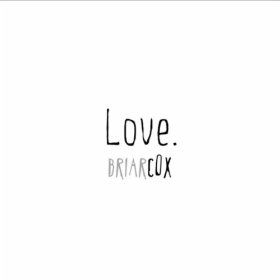 In this day and age of Facebook, Spotify, Soundcloud and Twitter, it's difficult for any news, music albums, book releases or scandals to go unnoticed. One of the few new releases to go completely unnoticed this year was Briar Cox's EP Love and Lust, and it's a shame more people haven't heard of him.
The Love EP has an upbeat acoustic sound, synonymous of his pop-rock genre. Jason Mraz was also an obvious influence, most notably Mraz's hit "I'm Your's". While his influences are very apparent, Cox never makes the mistake of copying the other more established artist, only taking hints from his work.
Cox finds his own niche in the overcrowded genre, settling in between the space between Jack Johnson's relaxed acoustic sound and Mraz's romantic style. The standout track is "This;" it tells the story of finding love over breakfast. As dumb as that may sound, it's a very cute idea. Cox sings about how he never thought that "forever rarely comes with bacon on the side." The whole album just radiates that sickening sweetness that just surrounds  new couples.
This is in stark contrast to the second part of the EP, entitled "Lust." If "Love" was the EP for happy couples who have just gotten together, then "Lust" is the EP for the couple who has just gone through a breakup. The songs have this distorted, dirty-sounding electric guitar, which, after the twenty minutes of acoustic guitar, is a nice change of pace. It's comparable to sitting down to a double feature of Cinderella and (500) Days of Summer: the first is a happy tale that in the end it was easy to see that love would win and that all involved parties would live happy so on and so forth; While the latter is a stark look on relationships depressing in the middle but at the end a little glimmer of hope to reassure you that happiness is out there.
All in all "Love and Lust" is a very well done EP. It's a shame that it's so easy to miss; almost unfindable in Spotify and Soundcloud. Cox takes the Pop Rock genre and gives a fresh spin by saying relationships can be great but what happens when they go nuclear?