Football captains honor teachers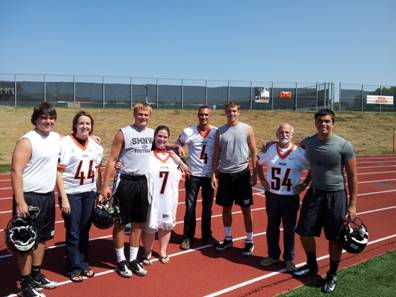 These teachers were selected by the football captains this week to wear their jerseys. The players chose these teachers as a way of honoring them for being special people in their lives. Here's what the players had to say about their teachers.
Greg Agderian (Josh Zdeb): "Coach A is a great teacher, and I really liked U.S. History last year. I also appreciate him for being a good coach during freshman football and a mentor in the classroom as well as on the field." 
Sarah Dent (Lucas Karlin): "Mrs. Dent is a great leader in our school and an awesome teacher. Her class was the perfect balance between fun and business. She always has a smile on her face and is just a fun person to be around. I'm thankful that she is flexible and easy to work with. I appreciate the fact that she sets such a good example for the school.
Mike Pisani (Luke Fields): "Pisani is just as much of a friend as a teacher. He made class a good blend of serious and fun. He tried to be strict and enforce rules, but it was hard to take him seriously with the little smirk he had. I am thankful that I got to learn everything from Mr. Pisani. Environment Ed is one of the more underrated classes that NW has to offer."
Kristy Thigpen (Connor Jarman): "Mrs. Thigpen was a great teacher who worked with me, and she made class fun. I read more books in her class than any other English class I've had. I wanted to read the books because of her."