New to Northwest: Laura Ramsey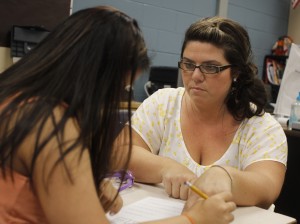 "Working here feels right," resource teacher Laura Ramsey said.This year, Ramsey has returned to Northwest after being let go because student enrollment was down last year.
Ramsey was once a graphic designer and a paraprofessional at Hocker Grove Middle School, where she finally found her passion."I really loved working with kids, so I changed my major from a graphic designer to a major in education, and went back to Pittsburg State University to accomplish it," Ramsey said.
According to Ramsey, the reason why she has returned to teach at Northwest is simply because she "really likes working with the older students, and the staff is very kind and helpful."
Ramsey says she has not seen any differences since her last time working here; however, her appreciation towards staff members and students has substantially increased.
"It's really nice knowing that there are staff here at Northwest who are willing to help out as well as come to work with good attitudes and smiles on their faces. It's also great to work with students at the high school level," she said.
Although Ramsey does not teach a lot of students everyday, she gets to meet a wide variety of people.
"I like that I get to work with people I normally would not be able to if I was a teacher for just one class and not a resource teacher," Ramsey said.
"The people here are very nice, and until you work somewhere else you don't really appreciate it."