New to Northwest: Mira Thomas
As a child, NW teacher Mira Thomas's teacher would ask her to lead the class and teach her peers math. "As soon as I got there, I knew I wanted to be a teacher," Thomas said.
The former Trailridge Middle School math teacher thought that since positions were open at Northwest, it was a good time for a change. After 17 years of teaching middle school and tutoring high school students, she took advantage of the opportunity and received a teaching position as an Algebra 1 and 2 teacher.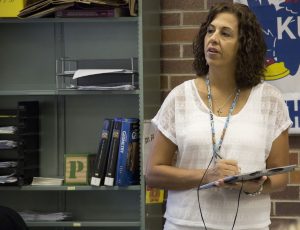 During the first week of the school year, many former Trailridge students recognized Thomas, which was comforting for her and helped her transition into a new school. Her fellow teachers from Trailridge would send her flowers and emails to ask how her first week was, which, according to Thomas, was "wonderful."
Middle school to high school is a big change because the school is much bigger and the maturity level is different, which is a good thing, according to Thomas.
"The things that Northwest has that were appealing for me to come here for are the sports, the school spirit, and so many clubs and organizations," Thomas said.
On the first day of school, Thomas asked each of her classes, "How many of you like math?" Usually only two or three hands would come up, five if she was lucky.
"My biggest goal for this year is that hopefully, at the end of the year, the students will love this class, feel more confident in math, and hopefully pursue it even farther," Thomas said.