Mr. Gyros: 8234 Metcalf Ave, Shawnee Mission, KS 66204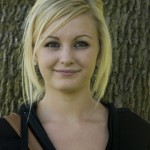 When viewed from the outside, Mr. Gyros is odd-looking and seems as if randomly placed on a street corner. Huge white pillars were the building blocks for the restaurant. The inside, though, was the opposite. The restaurant was refined and pleasant. It was beautiful, but a little intimidating. The chairs and tables were perfectly lined up on the carpet and the place had barely any wall because there are so many windows. There weren't many decorations adorning the wall, yet the few that were there were gorgeous. Orange and brown vases lined the walls and huge candleholders were attached to a branch canopy. The restaurant is refined, and the atmosphere is pleasant.
When it came to deciding what to order, the menu was simple; It showed pictures of what the food looked like. The staff was also very nice and helpful when we asked for suggestions. The food was prepared within a few minutes. The Gyro Salad I ordered was intimidating at first, because I had never had anything like it: a typical green salad, topped with cucumbers, peppers, olives, carrots, onions and goat cheese. The cucumber dressing and goat cheese gave the salad its unique Greek flavor.
The food was unexpectedly good, and even for a person who prefers routine food. For a good deal, Mr. Gyro's gives Kansas City a little bit of Greek pizaz with every bite.
Gyro with Beef Review: The gyro was very tasty but not be enough food for dinner. It had a little spice but not too much and tasted senstional with the cucumber sauce; the gyro had beef, onion and thin tomato slices on pita bread.
Kifta Kabob Review: The kifta kabob was basically a gyro with different spices on the meat and no cucumber sauce. The beef had a lot more spice to it and was a little bit cheaper.
View Larger Map