Problems with Parent Connect
With our grades being monitiored by Parent Connect, it makes it difficult for students, parents, and teachers to communicate.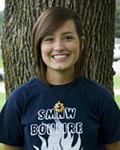 "What's this about?"
The familiar words greeted me as I opened an e-mail from my dad, because, once again, Parent Connect had sent an automatic e-mail to him concerning a failing grade of some sort.
"Please do not reply to this message. Any response is sent to an unmonitored mailbox. LAUREN MINICK has received a failing grade for the following assignment(s)… You are receiving this message because you have requested an e-mail to be sent when your student receives a failing grade for an assignment."
You have all seen this before. You forgot to do the assignment, didn't do it or, in my case, were absent and unable to turn it in. Regardless of the reason, you have been annoyed by these automated messages at least once, if not multiple times. I don't want to rant here, but the first thing I do when I open the e-mail from my dad is scream and make it known that I absolutely, positively hate these Parent Connect updates. When I skip lunch to check my e-mail and work on journalism projects, I want to know why I'm being bothered with a "concerned" message from my parents that in turn upsets me about a missing assignment only worth five points.
The option to sign up for Parent Connect is given at registration and Back to School night. Parents are assured it is not only accurate, but allows them to stay up to date on everything that happens in their child's classroom. This is why it is also referred to as Parent@School, is it not? Look, I am not completely against technology that allows my parents to play an active role in my education. The use of programs such as Parent Connect is an all-around good idea, but there are better programs out there that we could use.
I believe that my generation has to face the fact that although we are technologically advanced, schools are pushing to make our parents just as informed as we are. Instead of rebelling against it, I say we embrace it.
After researching the Pearson School Systems' website, which spawned Parent Connect, I found a similar program that is possibly more effective. It's called Power School and has proved itself to be an award-winning classroom management tool, according to the company. Here are some of the features that I found appealing from the demo on Pearson's website:
• The program is accessible from both Macintosh and Apple computers and from any Internet connection in the world.
• Grade assignments, updates and criteria are shown exactly as the teacher enters them and are said to be accurate up the minute.
• Teachers are able to see students' progress in all classes.
• Multiple e-mails can be added to the progress report update section to ensure that all necessary parties are e-mailed.
I don't want to get "What's this about" talks, e-mails anymore. I want transparency and accuracy in the technology that is used to facilitate open communication among myself, my teachers and my parents. I want change.
I urge all teachers, students and parents to take 15 minutes of your time to watch a demo on the Power School program at http://www.pearsonschoolsystems.com/demos/powerteacher/videos/.