Past and Present: Eddie Lyday
Sitting in the stands at Cougar basketball games, associate principal Eddie LyDay often looks back to the winter of 1982 when he was on the court, playing in the state baketball championship.
LyDay grew up in Wichita and attended Wichita West High School where he played basketball for three years. Although he wasn't blessed with a natural talent for the game, LyDay worked hard at an early age to improve his skills.
"I was so fortunate to be able to play. Back in the fifth grade, I couldn't even make a lay up, but I got better. I had the privilege to play with my friends which made the game even better for all of us. I had their back and they had mine., LyDay said.
The grueling practices and tough coaching paid off when Wichita West played for the state championship during LyDay's senior year. The game was a close battle as neither team took a sizeable lead. Then, in the third quarter, Coach Mike Bonzcyck called a timeout to talk to his players.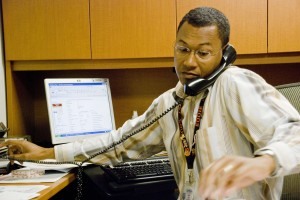 "He looked at us and just said three words. 'This is it.' And he was right," LyDay said.
Those words inspired the team to break away in the remainder of the game, winning by 18 points.
LyDay would always remember that moment. After high school, he went on to play two years of junior college basketball before playing at Midwestern University in Illinois. However, hie was forced to discontinue his collegiate basketball career after one year at Midwestern due to injury.
Today, LyDay continues to love the sport of basketball. But, he says,  players today just don't have the passion that they used to.
"These players have much more talent than we had, but when we played it was blood and guts.  I just don't see the same passion anymore."
-Brady Klein