Past and present: Howard Newcomb
NW faculty reminisce on their high school and college athletic endeavors.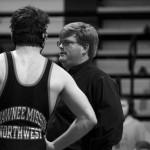 Most high school athletes tend to stick to the usual sports: football, basketball and baseball. For Computer-Aided Design teacher Howard Newcomb, it was all about lifting weights.
"My dad was a competitive weight lifter when I was little, so I'd hang out at the gym with him and mess around while he would train," he said.
Newcomb was naturally strong as a child; weight lifting was in his genes. When he was 11 years old, he was able to squat 245 pounds, a feat for most high-schoolers today. He never thought anything about it until sophomore year, when he squatted 415 pounds. That is more than any player on the varsity football team today can lift. Newcomb realized he had a tremendous amount of talent and decided to compete.
"By the end of junior year, I was squatting 540 pounds and competing at the state level," Newcomb said. "I was in the top three in the state and was consistently winning gold medals and trophies ."
By then, Newcomb was lifting and training all year-round.
"My dad never pressured me to compete or anything; I had a lot of self-motivation to compete and do better," Newcomb said.
Competitive lifting wasn't the only sport Newcomb competed in. He played on the Commerce High School football team as a fullback and linebacker. He played all four years of school, three of them as a varsity player. Newcomb was able to use his strength as an advantage on the field and was selected as district defensive player of the year his senior year. After high school, he walked onto the football team at the University of Arkansas and played for three years under College Football Hall of Fame head coach Lou Holtz. He stopped playing after his junior year due to injuries and other issues.
"It's one thing to be big in high school, but when you get to college and there's a hundred guys as big or bigger than you, it's a whole different story," Newcomb said.
Today, Howard Newcomb is the head coach of the wrestling and freshman football teams.
-Andrew Zimmer